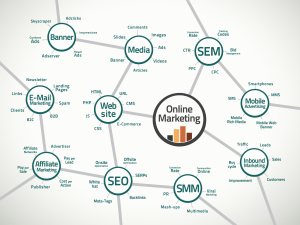 To increase visibility online, companies and professionals need to build an online profile. This also enables you to position yourself as an expert in your field.
However, in order to do that, writers need to publish content with established magazines in your industry that already has a strong readership.
Unless you can afford paid advertising, pitching your content in front of an audience is becoming more difficult. Despite the advantages of SEO, it is not without its challenges.
The leading social media networks typically limit the amount of content that reaches your followers. Although there are emerging networks that allow writers to publish content in front of a ready-made audience, they do not have a strong following yet.
Furthermore, search engines are looking for webmasters that have a good authority end users can trust. This strategy makes sense given the end user also wants to interact with companies and professionals they can trust to deliver a quality service.
Established websites that have been building an online reputation with search engines for years may not have a problem with this, but what about start-up companies struggling at the bottom of the page rank pile?
Content outreach
Writing for third party sites enables marketers to build an online profile, but it doesn't always help SEO. Google has told editors they are not allowed to give "followed links" in guest posting unless there is a very strong relationship between the publishing site and the linked site.  Search engines now have enough intelligence through information retrieval and potentially machine learning to pick up on faked relationships.  They are also increasingly aware of who people are because of structured data and semantic data.  Search engines are building knowlege graphs which extract the names of 'things' in text and map their relationships to each other.  Over time if your writer's expert names are connected with a topic enough or even if you are writing the content yourself, you or they will begin to be seen as authorities connected with your site.
Essentially backlinking just for the purposes of SEO, as it was in the past, is dead, because search engines have learned how to detect manipulation much more accurately now.  It was never a good sustainable strategy in the first place.  Instead, a genuinely legitimate, and useful content creation and outreach strategy still has advantages. If you can get your content published in a reputable magazine, it will be read by a wider targeted audience than your blog probably receives.
Content outreach also gives you the opportunity to show you have specialist knowledge in your field of expertise and improve your online reputation as someone with authority that can be trusted.  Likewise, the content you publish on your own blog should be of the highest quality.  Google ask their human quality raters, as part of the metrics by which they grade samples of websites, to consider the expertise, authority and trust of a site.  Are you writing about content that you know well, or are your authors experts in this field?  They need to be.
The difficulty for many companies and professionals is persuading an editor to publish their content. Online magazines have standards to keep, your writing style should be a good fit for the publication and the subject matter must be tailored towards readership.
If you do not feel as though your writing skills are up to scratch, try contracting a freelance writer that has specialist knowledge in your field of expertise. That's not to say you'll want the freelancer everything for you, but sometimes it helps to get a structure and framework off to a good start, and you could also provide the freelancer with your thoughts on the topic, and the arguments you want them to cover.  In this way you'll be providing your own views, expertise and authority whilst also remedying the issues you might have with writers block.
Influencer outreach
The other option you have to promote your content to a targeted industry is by securing the services of an influencer – someone with a huge reach and high credibility – a celebrity for example.
Finding an influencer that will accept your proposal however is tricky unless you are willing to shell out a large fee. I have seen some "influencers" charging fees of £2000.
You may be lucky enough to find an influencer who willingly shares your content whereby it stands a good chance of going viral. Of course, not every industry has influencers.
Every content marketing strategy should have a focus of getting your content read otherwise there is no point wasting your time writing articles. If you are struggling to attract readers to your blog or engage followers through social media networks, content outreach gives you the potential to leverage your content to a targeted audience.