Content Marketing – Fresh Approaches
Collaborative Content
Collaboration appears to be taking hold in creative communities at the moment. It's only a matter of time before it becomes a fully-blown trend. Best hop on that boat now before it gets too crowded.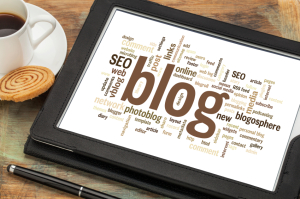 The idea of brands collaborating on projects is not a new idea. The latest trend however, is for brands to collaborate on content. Which sounds like it could be pretty challenging despite the promise of mutual benefits.
A collaborative project of this nature will obviously work best if the two companies complement one another and are working towards the same goals. But the way in which online marketing is changing the way we present content offers the potential for two companies to merge campaigns.
Marketing changes
Traditional marketing involves crafting a brand message and delivering it to your audience through a certain media. The modern audience however, are typically passive towards advertising. They receive too many obvious ads.
The huge amount of content available on the internet has changed the mind set of consumers. They are no longer interested in merely hunting down a bargain, they want information, assurances and proven quality.
Content therefore has to be authentic and offer something of value to readers; not just an "offer of a lifetime." Collaborative content helps brands push the boundaries and reach a wider audience, whilst at the same time increasing online creditability.
Combining brand messages
If you do enter into a collaborative project with another brand, the content has to be strong enough to appeal to both audiences, and fulfil the goals of both brands. Not always easy, but not impossible either.
Redbull recently teamed up with Playboy and featured a video of pro rider, Danny MacAskill performing tricks on his street bike at the Playboy Mansion. With all those play bunny's hanging round in their bikini's needless to say the gig went viral.
The video does not directly advertise either brand, but rather reinforces their brand messages; Redbull is all about action and adventure, whilst Playboy acknowledges a life of luxury.
Already the messages seem like a conflict in interest, yet the content still works well for audiences at opposite's ends of the spectrum. It opens doors to new interests and ways of life people may not be familiar with.
So even without direct advertising from either brand, marketers were able to produce brand advertising that has been seen by almost 3million viewers.
Increased audience from collaborated content
Online businesses understand the need for content marketing to be an integral part of their SEO campaign. However, maintaining a blog and building an online profile comes at a cost.
When two brands that complement one another produce the same piece of content, you can reduce the cost of production and promotion whilst at the same time reaching a wider audience.
Although collaborative content presents many challenges, it also has the potential for huge rewards, not only from a brand perspective, but the wider message of building relationships that can be reinforced in the community.
Storytelling for Content Marketing & Branding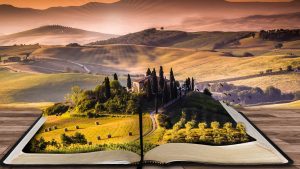 Spinning a storyline through your brand marketing content is a growing trend in the digital sphere and an important part of the services of online pr agencies.
Modern brands may be taking advantage of new technology to connect with their audience, but it is the ancient art of story-telling that is having the most impact on customer engagement.
Studies show internet users spend an average of eight hours a day online. And the modern consumer is exposed to so much content, bland ads that do not convey emotion, are instantly forgotten.
Consumers today want to be entertained. They want something they can share with their social networks and talk about with their friends. They also want content that offers value.
Putting a story into an ad to amplify your content
Every brand has a story. You could start with how your company began and take us through the journey of your growth. But you also have products to sell. And they have a story as well.
But story telling does not always have to focus on you. It can star your customer. What are the pain points for your customers? There is a story in there somewhere.
Story-telling plays on our cognitive behaviour. Explain something in linear order and people will remember more than reading an article packed with information.
How to create stories in content?
The structure of your story should have a beginning, middle and end and include the five W's; who, where, what, why, when.
Providing you have the fundamentals in place, you can create a story in an ad that appeals to how the human brain works. All you need to do then is bring your story to life.
There are many ways for brands to tell a story using any format.
Video and written content are the easiest way, and if images say a thousand words, then Memes with a strong statement, weave a plot line into the narrative of the picture.
Providing your story delivers a message for viewers to take away with them, you plant the seed that leaves a lasting impression on your audience.
Before creating content with a story thread, think about what type of TV programmes consumers watch. Reality TV shows and soap operas are the most popular.
One of the easiest ways to create content therefore is to tell a real life story about you or your customers.
The core element should be the brand message you want to deliver. Using your position statement as a central thread you can build the story around the theme.
To create a plot, look for inspiration in real-life stories and use the subjects as your characters. Any fiction writer will tell you, write about what you know.
Providing the story you tell is the truth and not fictional, of course.
The power stories have over the human mind cannot be ignored by marketers. And the art of telling a story challenges content curators to be more creative. So it is time to put on your creative hats.
Types of Stories in Brand Story Telling
Search engines and SEO marketers keep telling webmasters to upload quality content. But how can you define what quality content actually is?
Search engines define quality as content that "is fresh and engaging."
This doesn't really tell you a great deal, but one sure-fire technique of writing fresh and engaging content is to tell a story. And there are seven basic story types you can choose from:
The seven story types are as follows:
The

Quest

Hero's Journey
The Underdog

Rags to Riches

Tragedy

Comedy
Rebirth
Let's look at each in more detail:
1. The Quest
The most popular stories are "quest" stories, tales where the hero goes in search of something such as Lord of the Rings or Jason and the Argonauts.
In terms of business content, you can use the quest story technique to explain how you solved obstacles to reach your goal.
2. Hero's Journey
The journey is similar to the Quest, the difference being the character is thrown into a situation rather than specifically striving towards a goal. Think Life of Pi, Up In The Air.
As a piece for your business, the journey is a problematic position you found yourself in and the lessons you learned to overcome the problem.
3. The Underdog
The Underdog stories are simple enough to decipher – and everyone always wants the underdog to win. This may be a story of how you overcame competition from direct rivals with more money and experience or maybe even a legal or social barrier that prevented you growing; the struggle to find funding for example.
4. Rags to Riches
This is another plot line that requires little explanation. Even in business terms it is the story of your business growth. These type of stories work well for an About Us where you began crafting your first product in your parent's garage from borrowed material to becoming a multi-national corporation.
5. Tragedy
Hopefully you can avoid any tragedy stories, but if you do suffer setbacks and can turn this into content that offers value to readers, let it be known. Recently there has been a spate of articles from SEO companies admitting they have been fined for copyright infringement.
6. Comedy
Humour is always a winner, but comedy stories are often the hardest to write. Rather than force a comical article, it is better to go with something anecdotal that relates to your business.
The story does not have to involve your business directly, it may be something you find in the news, but providing you can use the humourous angle to relate to your business you are on to a winner.
7. Rebirth
One of the hardest basic story plots for companies to pull off is the rebirth. This type of plot involves a character nobody likes, but during the course of the story he redeems himself for his misdemeanours.
In business, rebirth stories are good PR pieces companies sometimes need to clean up their public image. It is not recommended that you publish rebirth pieces unless you need to otherwise you are airing your dirty laundering in public when nobody even knew they needed a wash.
Approaching online content with a basic story plot in mind will help you shape the piece and make it a more enjoyable read for your audience. End users and search engines will love you for it.
User-Generated Content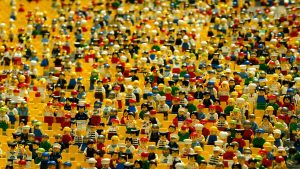 User-generated content (USG) is a cost-effective means of helping to attract organic traffic and improve SEO, and is a trusted source of information that can be used to attract a highly targeted band of customers.
Part of the reason for this is, increasingly search engines are trying to understand what real audiences are saying and there's nothing quite like the real authentic voice in type created by real users in the form of comments, reviews, conversation in forums, blog post comments, and so forth.
Real users provide a much more objective opinion of what the real deal is with products and services.  Therefore it makes sense for search engines to mine the data from conversations via forums and thriving community website.
It also happens to be fairly obvious the topics which will likely be naturally discussed will be those very much related to your website's theme.
This naturally helps the site to rank higher because of increased relevance to that topic.
Forums provide real topical depth when search engine data miners come digging, so it's no surprise that if you get this right you could say you've a real gold mine from an seo (search engine optimization) perspective.
User generated content is absolutely the most natural language possible.
It's real people giving real opinions, warts and all.
User generated content is also an excellent sign you've really engaged with an audience and you may be well on your way to building a loyal tribal following of brand advocates.
Monitoring user generated content is also a great way for brands to dig into customer service issues and hear about problems they might otherwise never discover if it were not for their community on the ground; their audience.
Get it wrong and it could just go the opposite way if you don't manage it well.
If you need content ideas to help improve customer engagement and boost your search engine rankings, user-generated content might just provide the ideal solution.
UGC (user generated content) won't work for every company of course, but if you engage in a content marketing strategy, you should consider inviting users to contribute to your blog and social media networks.
Going forward, you will hopefully find you begin to turn users into advocates and partners as they move up the Ladder of Loyalty (providing their experience of your brand is positive).
Here's a few user-generated content ideas to get you started.
1.Offer rewards to encourage user-generated content
In order to encourage readers to participate, you need to give them an incentive.
This could be a small discount on your products, a generous donation to a local charity or educational institution, or an attractive prize.
For example, you might want to run a competition for the best photograph that features your product and award the winning contestants with either a cash prize or a free product or gift.
Competition prizes have to offer a big enough incentive.
You'll also want to get some momentum behind this on social media channels.
Add a hashtag to the campaign to build up even more traction.
Once you've unveiled a winner, make a big deal of sharing the news on a blog post for even further campaign reach.
2.Run a design competition
If you are considering introducing a new design for your product, why not ask your existing customers to provide suggestions for new features.
Not only will this get your audience interested in providing content, but will help you determine the needs and preferences of your customers which you can use to your advantage moving forward.
Lego were really very successful with this concept of audience engagement involving co-creation.
They developed Lego Ideas platform. Here the audience crowd-sources opinions about ideas for new Lego models and kits.
If the crowd provide enough support for the product Lego commercialize it.
3.Real-Time Co-Creation Action at Events
Events and exhibitions that relate to your industry are a great piggy-back for businesses to attract exposure.
And inviting customers to post live feeds and social streams of the event directly from their mobile phones enables you to capture unique moments to share with other customers and attract a wider audience.
Furthermore, live feedback alerts you to trending topics you can capitalise on with branded content and social media marketing.
Build up to the event with timely email marketing at set periods in the run-up to the event and build some real excitement along the way.
4.Challenge customers to embrace your brand/product
The most powerful marketing tool is word-of-mouth advertising and inviting customers to review your product or submit video content of them using your product generates excellent sales content.
This strategy is a prime example of offering an attractive incentive, but if the content is well executed enough for you to use (don't use low-quality submissions), you can expect to increase your sales revenue.
5.Invite customers to provide open feedback
Another option to generate content and word-of-mouth advertising is to invite customers to provide feedback by setting up a dedicated page on your website that enables customers to leave comments.
A small incentive may be required, but for some businesses some form of compensation may not be necessary.
User-generated content can have many benefits, but you should also be wary about the quality of content you use. Don't forget that you still need to publish content your other followers will want to watch.
Poor recordings and badly written reviews should not be used, otherwise edit them to make the content presentable.
6.Co-Create with customers and your target audience
Co-creation with customers who ultimately become advocates and even marketing partners is considered one of the highest success levels of target market engagement.
Why not organise interviews and webinars focusing on key customers or industry experts, with the focus on the interviewee rather than your brand.
By helping your key influencers to penetrate their own circles of influence further, you're not only creating value for yourself as a brand, but also them.
Could Co-Creating and Growing Sentiment Boost Your Rankings in Organic Search?
The answer is "We can't be sure".  However, at a recent State of Search Conference in Dallas, Texas, Google's Gary Illyes did mention when interviewed by Jennifer Slegg that search engines are constantly looking to understand brand sentiment.
Brands Blogs and Bloggers for Content Marketing – It's Another Collaboration Thing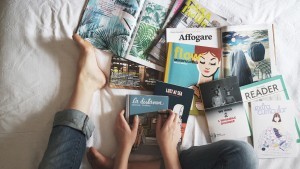 To market to either B2B or B2C prospects, it is essential to keep a blog or at least have some compelling content on your site.
The objective here is of course to engage with a target audience and ensure you are front-of-mind when there is a need for your services.  It's also there to not only reach an audience in the early stages of the marketing funnel, but content also assists with helping prospects move to the next stage of the user journey.  This is when they are looking to find further information, ask questions and compare options and find out about such matters of levels of support and what's included in the services you provide overall.  So, we have reach which helps us to attract and connect with target segments; we have guides and help and question answering to help move people toward either a micro or macro conversion and we have the next stage which is retention and loyalty.  This is where an interesting, compelling and lively blog comes in handy.  An interested audience will keep coming back for more and also go on to tell others about what they discovered on your site.  Of course, you need a blog to begin with.
Setting up a blog
So how do you go about setting up a blog and building it up into a readable online magazine that raises your brand profile, boosts your search engine rankings and increases conversions? Here's how!
Decide what your blog will be about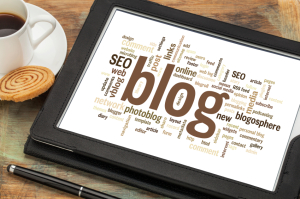 Your blog should be relevant to your business and products. It's sounds obvious, but in the past blog owners have been known to publish content because it is a popular subject and will rank better than their product.
Make a list of all the subjects you can cover in your blog that are relevant to your business. These may well be used as categories in your blog which you need to organise content so your blog is easily navigable.
A word of warning here though.  If you are not careful you can find that your blog actually begins to outrank your main commercial pages so keeping the content and the content within the categories (and even the category names) clearly mapped to intent is very important.
If you're using a CMS (content management system) for your blog (for example WordPress), you'll also need to consider whether you are going to include the category name in the URL.
Bear in mind if you do keep the category name in the URL and you add a blog post to more than one category you have now immediately created a duplicate content post.  Everything in the two blog posts remains the same aside from the URL.
For example, you may have decided to add your blog post about 'This seasons must have garden party shoes'.  You add it to the category 'Garden Party' and also to 'Shoes'.
If you include the category in the URL you now have two URLs. One is likely to be 'https://www.[your-domain]/shoes/this-seasons-must-have-garden-party-shoes' and the other one is likely to be 'https://www.[your-domain]/garden-party/this-seasons-must-have-garden-party-shoes.  Both of these URLs have exactly the same content.
They are both about 'This seasons must have garden party shoes'.  However, search engines will choose only one of these to include in its search engine index, as including both would be a negative user experience for search engine users.
You have two choices here to avoid this.  You can choose to use something called 'canonicalization' which is a special meta-tag to indicate to the search engine which of these two exact URLs to choose and to include in its search engine.
However, you should be aware that this is only a hint and not a directive (strong order) to the search engines.  Furthermore, that hint can be over-ridden by other hints which you also give to the search engine along the way.
For example, if you (or anyone else) links to the wrong 'copy' of the 'This seasons must have garden party shoes' post then that hint could well override the other hint which you already gave with the canonical tag.
You might also find that when you move pages around in your website in the future, you forget that that canonical tag was placed there by you in the first place.  More confusion.
The other choice you have is to not include the category in the URL at all and simply call the URLs in the blog posts something along the lines of 'https://www.[yourdomain]/this-seasons-must-have-garden-party-shoes'.
Some will argue that the relevance to the topic of garden parties and shoes is lost in part because you have not include the category here (and it therefore cannot be inherited as strongly by the blog posts in the category, but this option is certainly much more easy to manage if you anticipate moving content around in the future.
Something else worth noting is that if you do use categories in URLs and you ever change the name of the category then you immediately break all of the URLs to the blog posts in that category.
There are other ways to build relevance to a category aside from adding the category name into the URLs but as this post is not supposed to be too technical I will leave that for another post in the future.
Back to deciding what your blog categories will be about.
When brain-storming content ideas, be creative. Check out competitor sites and think about what types of broad tasks your audience is likely to want to carry out too.  Are they interested in 'reviews'?  Are they interested in 'costs and price comparison'?  Are they interested in 'trends'?  Are they interested in 'ideas and inspiration'?  Write down as many ideas as you can and look at some tools to research the topic at its broadest level to begin with before you start to narrow down and cluster the searches people might make into groups.
Once you've done this then you need to decide where you will host your blog and also what kind of CMS (content management system) you will use.  Of course, if you already have a website you may be limited in that you need to use what is there already.
Choose a platform and host
There are several blogging platforms to choose from. WordPress is the most popular and is easy to use. Blogger also gets good reviews.
You also need to choose a host. If you are bolting your blog to your main website, which is recommended for businesses, you will probably use your existing host.
If you are purchasing a standalone blog and do not want bells and whistles on it, a standard wordpress.com for example (this is different to wordpress.org which enable you to build in attributes) you do not need a host.
It is important that you know what your content will be about before you purchase a url. You may want to go with your business name, or your own name which is advisable for freelancers and companies. If you are writing about a specialist topic, ideally your url should bear some relevance to your main topic.  You may also be merely adding on the blog to your existing website or building out some other type of content such as 'guides' or 'resources'.
Have a content strategy
Determine the goal of your blog. Assuming you are a professional or a business, the main purpose of your blog is to generate interest in your content, drive traffic and boost search engine rankings.  You should determine some 'micro-goals' at this stage which are like mini steps towards your macro-goals.  Micro-goals might be such accomplishments as 'sign up to newsletter', 'make an enquiry', 'make a phone call', 'download a guide', 'watch a video'.  Macro-goals might be 'purchase a product' or 'make a booking'.
Go back to your list of content ideas. How can you present them? You should be looking to vary the type of content you publish on your blog. Word-based articles are the obvious choice, but can you put anything into an image-based post such as a photograph or infograph?  Could you create several content types around the same topic (be careful about avoiding cannibalisation of your own efforts here).  Bear in mind that your prospects might want to see a gallery of images or watch videos rather than read long streams of text too.  They might want to do all of these things (read text and look at pictures or watch videos) at different times too.
Distributing content
Now you have dedicated time and resources to producing content, you need to reach an audience. For new starters (and old hands) the best way of finding an audience is through social media networks.
The downside is that social networks need maintaining. You have to engage with your audience otherwise they lose interest in you work. Therefore only select one or two social media networks.
The two obvious choices are Facebook and Twitter as they are the most popular and have the most number of users. However, it can be more difficult to find the right target audience.
The alternative is to use one of the up and coming social sites such as Medium or Quora that allow you to publish content in specific categories that have a ready-made audience specifically fishing for content they want to read, rather than what appears in their newsfeeds on other social sites.  There are also platforms such as Reddit which also have very specific communities separated by topical relevance and even more granular sub-reddits to drill down even further into your blog-niche of choice.
Blogging does have its rewards on both a personal and professional level, but it is hard work, time consuming and, at first, can be deflating. Patience and persistence is key for beginners. Once you build up a relevant audience you will reap the benefits.
You may find creating and adding content to market via the blog becomes very time-consuming for your team.  Hiring someone to merely maintain your blog full-time or even part-time is not always cost-effective, so many companies choose to work with a mixture of copywriters, in-house digital marketers and subject-matter-experts (often referred to as SMEs (not to be confused with small and medium enterprises of course).
This has obvious financial benefits, but the problem for companies is whether the writer can produce quality content that provides value to the reader. You should also bear in mind that the content they produce for you represents your company.  Another important point is customers and your audience often want to hear your company or individual writing style and tone of voice.  This is often very difficult to maintain when there are many individual writers working on the same blog or resources section of a website.  Because of this it often makes sense to have a very clear 'tone of voice and branding' guide.  Mailchimp have a very good example of this.
Working with bloggers and content-creators
Working with a remote blogger or content-creator needs to be a collaboration for it to work successfully. Writers need to understand your products, services, your brand identity and your target audience.
What to look for in a blogger
Ideally you want to find a blogger that understands your products and, in the case of specialist niches, they should have knowledge and experience in the field. At the very least they should be excellent researchers capable of writing engaging content your readers can trust.
Bloggers are typically passionate about the subject they write about, otherwise they would not waste their time blogging in the first place. Their passion and knowledge is something you can take advantage of.
Look for a writer with a strong, unique voice together with a good knowledge of your industry. If they have a good following on social media networks, all the better. This way you can use them as influencers, and word of mouth marketing is the most powerful tool in your arsenal.
What bloggers need
All too often, online business owners instruct writers to deliver articles that are based on keywords. And nothing more. If the writer knows nothing about your company, or the image you want to project, you cannot expect them to deliver content that is suitable or effective.
Furthermore, if you do not collaborate with the writer and formulate a content strategy you could be missing out on attracting an audience. The most effective content is focused to target specific customers, but if your blogger does not know which products you want to promote and which customers you are targeting.
By engaging with bloggers you can help them understand the "why" behind your brand. This is the message you want to make clear to your audience and by understanding your business philosophies, bloggers can more effectively promote your products and services.
If your company offers a number of products or services, collaborating with bloggers enables you to develop a content strategy that strengthens your message and makes your content more visible across multiple platforms.
For example, a blog post may tie in with a special offer you are promoting through social networks. You have prepared and posted your landing page and had some feedback, but a blog post on the same product a few days prior and after launch raises awareness and reinforces the message.
Communicating with remote bloggers and content writers
Technology makes it easier to work with remote freelancers whereby a collaborative process is much easier and cost-effective than ever before. However, shooting off emails giving instructions is not always the best policy.
It may depend on the nature of your content marketing campaign whether or not you feel you need to speak with your content writer, but if you are launching a marketing campaign to promote a special offer, you should ensure that the writer is kept in the loop and understand what message is to be delivered and how their content fits into the purchasing process.
In such circumstances, oral communication with the blogger is the best option, either by phone or video conference. You want to be able to give them the opportunity to ask questions so they are comfortable with their role. Hearing their tone of voice also gives you a better indication as to whether or not they understand your goals.
Communication should also be continued after a campaign. If you intend to continue your relationship with the writer, giving feedback about the successes and failures of a particular campaign or progress with search ranking and audience engagement will help to improve the process moving forward.
Any marketing campaign is a collaborative process, and blogging is no exception. Even if maintaining a blog is for the purpose of improving your search engine ranking is your main or sole purpose, communicating your goals to freelance bloggers gives you a better chance of meeting your targets.
Bloggers as Influencers for Content Amplification
The Dos and Donts of Working With Bloggers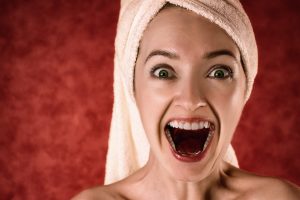 Bloggers used to be the butt of office jokes – but things have changed. A good blogger with a strong army of followers can be very influential marketing tools, and can realistically increase your conversions.
Having said that, finding the right bloggers is not always easy and you can waste a lot of time chasing the wrong type and getting nowhere. Take heed of this advice and you will save yourself a lot of wasted energy.
Don't try and reach out to celebrities
Celebrity bloggers are not interested in working for some unknown in the backwaters of Kent. Unless you are a recognised brand celebrities want to be associated with, you are wasting your efforts chasing them.
Celebrities are also expensive, so unless you do have some pulling power and a marketing budget to match, you will have more success looking elsewhere. Which brings us nicely to the next point…
Do find relevant bloggers
Relevant bloggers is key to your success, so look for influencers that specifically write about your products and philosophy.
For example, if you sell Apple phones, approaching a blogger that specialises in Android will not put you in front of the right audience.
To find the right blogger, look beyond the content they are publishing and determine whether their audience is your audience.
It nearly always is, but let's say you have an app to alerts consumers to discounted clothes. A fashion blogger is good, but a price-conscious fashion blogger is better!
Don't send generic emails
The manner in which you approach bloggers does matter. In most cases they are professionals and deserve some respect.
Too many marketers still consider them as geeky bloggers trying to be writers. This is disrespectful. They actually have a lot of knowledge in their field which is why they have such a healthy following of readers that trust them.
Therefore, your approach should be personal. Stroke their ego a little and comment on their work. And rather than saying something passive like, "I love your work", offer an opinion on a piece they published recently.
The fact of the matter is you have to make a connection with bloggers as influencers in the same way you do with customers. Finding common ground and building a rapport will get you better results.
Do pay professionals but nofollow paid links to avoid Google penalties
A professional blogger has to make a living and may want to charge a fee. The amount they charge will depend on how influential they are. If they do charge, you will have to make a judgement call as to whether you are prepared to pay the blogger for their time and for the increased exposure.  Just remember to add a rel="nofollow" link from bloggers who are paid for their work and send links from their site, because ultimately this is a paid link.  A paid link which passes PageRank (yes, Google still use this internally) is completely against Google's guidelines.  You want traffic from good blogs, not just PageRank.
Before you agree to pay, ask the blogger if they can provide results from previous experiences they have had working with companies.
Working with bloggers does have its benefits, although finding the right fit for your products is not always easy. You will need patience and persistence, but eventually you will be rewarded.
Interactive Video Games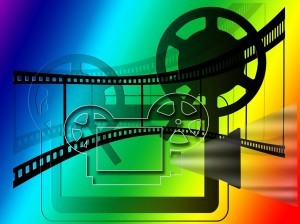 Interactive video has the potential to be a digital marketing game-changer. It may have not made a splash just yet, but as interactive technology improves, so will advertising ideas.
If you are not sure what interactive marketing is, take a look at these examples. The medium essentially has the potential to raise brand awareness and involve customers with your store and products from remote locations.
Standard video advertising is a passive medium. You have between six and thirty seconds to grab the viewer's attention and still need prospects to act before you strike a conversion.
With interactive video, you can engage viewers physically (or virtually) in various ways. The key advantage is getting them involved so that they are absorbed in your marketing program and are engaged enough to return.
Story-telling for content and Video games
Some of the most popular video games over the last decade feature story-telling of real-life scenarios. They have a variety of things for the character to do, even mundane events that don't seem to lend any value to the gamer.
But it is the ability for the player to create their own story that is part of the appeal. Therefore, if you are going to design a video marketing game, you need to give the prospect multiple options to keep them coming back for another experience.
When you make something addictive, there is a desire for online users to return – which is great for SEO. And interactive video also increases your chances of improving conversions – which is great for profits. Two important boxes ticked.
Play on the desire of consumers. People love shopping, and one of the complaints of online shopping is you don't get the thrill of the hunt or get to touch, see and smell whatever it is they want to purchase.
But what if you can provide a real-life experience in the virtual world? A tour of your store, perhaps with a virtual assistance to talk customers through their options, for example.
The fun of online shopping
Online shopping is becoming more popular because of its convenience. It is also fun to receive something through the post. But the process of browsing through product pages and reading sales copy does not offer many fun elements.
Adapting a gaming philosophy into interactive adverts offers a solution, but you will be wasting your time if the video only offers a one-off experience. The primary reason for people ditching apps after the first couple of tries is because they are not engaging. Interactive videos could suffer the same frailties.
As suggested above, you don't necessarily have to gamify your marketing videos. The important thing is to involve consumers in some way that they want to come for more and enjoy a different experience.
Anybody of a certain age, ahem, may remember the adventure books that gave readers two options at the end of each chapter. Whichever option the reader chose would develop into a different story. The point is, readers would always return to the same story.
And so it is with interactive video. Give viewers a reason to return. Don't develop a one-time wonder otherwise you will have wasted your marketing efforts. And interactive video is a marketing strategy too good to waste.
Is Your Industry Boring? How to Develop Engaging Content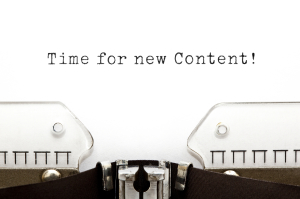 It must be disheartening for marketers of dull industries to be told they should be publishing blog content. What can you write about floor tiles that is going to pique interest?
But even writers of products and service industries that are considered boring can still find angles to create engaging content. However, it does take creativity and adept writing skills, but just to throw some ideas at you, here we go!
Tell real-life stories
Story-telling has been an art for centuries and will never grow old and tired, especially when based on real-life events. Your stories still need to relate in some way to your brand and product, but you can use artistic licence to spice them up a little.
Let's say you work in a despatch warehouse. How many stories can you tell about things that happened in a day? I am sure you can spill one tale or two a week.
Tell readers what has happened in your workplace, bring the environment and characters to life and readers will want to stay tuned. Your customers will feel like they know you even though you have never spoken to them.
If you have a good sense of humour and can bring that out in your writing developing real-life stories are exceptionally engaging. But don't be scared to stretch the truth a little – writers call it faction.
Use attractive images
If you do not have a great deal to write about, look at other ways of creating content. You know what they say about images speaking a thousand words – then you don't need words.
However, a funny caption does make your images more engaging and more likely to be shared in social networks, so keep your eye out for amusing or thought-provoking quotes you can use for inspiration.
Be careful about simply adding lots of stock images though.  There are plenty of creative commons and free image websites which you can find a whole stash of images to spice up your stories with.  In addition there are many apps and filters you can use to create something even more interesting when adding images to your content.
Give practical advice that helps users
How to articles are very popular with readers and if you work in an industry that requires giving practical advice, you are best placed to include how to articles in your content.
One of the reasons for keeping a blog and spraying your content over social media networks is to position yourself as an expert in your field. Use your blog to enhance your reputation as a specialist.
Address customer issues
Consumers often purchase products or services to resolve a problem they have. There are content ideas in these. If one customer has a specific issue, it is likely that others have as well.
Get active on social networks and speak with customers coming into your physical store. Whilst you are giving advice, they are telling you a story. Content gifted on a plate. Do not use their name without permission, but there is no harm using their personal account for content purposes, or to inspire content.
Essentially there are no boring industries. If you have customers, they have an interest in your products or services, and your content helps them make decisions and get to know your brand.
Need Help with Content Marketing Co-Creation Ideation or Fulfilment?
If you're struggling to get the creative juices flowing with ideation around user generated content or content co-creation, why not let Move It Marketing help.
Contact us for an initial consultation on content marketing strategies.
[wl_navigator]
[wl_cloud]
[wl_faceted_search]