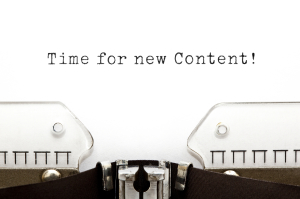 Talk about user experience in digital marketing and both design and functionality of a website will feature heavily in the conversation. But one topic that often gets overlooked is content – and this kind of neglect can cost you big when it comes to converting traffic into customers.
Content is what people are looking for when they visit your site, check out your social media accounts and subscribe to your blog. While a strong user experience is vital for keeping them involved with your online brand. So it's time to integrate a strong user experience into your content strategy (and vice versa) if you want to maximise your conversion rate.
A two-way partnership
The truth is user experience always has a role to play in web content – and it works the other way as well. The two should be inseparable, but very few websites marry both effectively – which gives you an opportunity to take advantage and get it right. So let's tale a look at a few key areas to get you started.
Mobile optimisation is a priority as more people take to smartphones for their online needs. This provides a big challenge when it comes to content as there is only so much you can fit on a small screen. It's safe enough to say users expect to scroll on a smartphone, but reading a 1,000-word article on a mobile hardly counts as good UX. So you have to devise a way to deliver mobile optimised content to users on the go.
Calls to action are the finishing line of the conversion process and that tiny bit of content telling visitors to "buy now," "sign up" or "send" is crucial. And you'll be amazed how much difference even subtle changes to your calls to action can make – so experiment and measure results. Of course, not every call to action is as short as a word or two and entire sections of your website can be geared towards a call to action. So test placement and length – as well as wording – in your calls to action.
The sales funnel is the journey prospects take along your online presence until they commit to a conversion. You need a strong user experience at every step of the way to stop potential customers jumping ship and it's your content's job to keep them hungry for more. So think of every blog posts, product description and social media post as a small step of a much larger journey – and each one needs to send users in the right direction.
An endless list
There's no point trying to cover every element of user experience and content strategy. As we've already mentioned, the two go hand in hand together. It will be much quicker for you to think about user experience in every stage of your content strategy, because as soon as you separate them you start to neglect a vital need of your audience.