Social media marketing can be a bit hit and miss if not implemented with some kind of strategy and clearly defined tactics.  By that, we mean, it's a hit for some and a miss for others.
So you have to ask yourself, if social media channels are not working for you, are you doing it right, and where could you improve?  It may just be that you haven't given your strategy enough time, or you didn't have a strategy at all.
Social media statistics
Before you throw your hands in the air and say "so what's the point then," statistics that have been produced that social media channels do boost sales.  Social media, like all other digital channels, is constantly evolving and things move fast.  Opinions on its use as a viable way to drive traffic are changing.  Here's some recent statistics on social media marketing you might be surprised by.
According to Marketo.com, 58% of marketers confirmed sales did increase significantly thanks to glad generation on social platforms.
According to socialmediaexaminer.com, a leading authority on everything social media, a whopping 92% of marketers give a big thumbs up to online networking.
Facebook statistics
Founded in 2004, Facebook is currently the biggest social networking service based on global reach and total active users. Launched by Harvard student Mark Zuckerberg and some of his contemporaries, the service was initially only available to Harvard students but soon expanded to regional universities, the Ivy League and further universities before opening up to high school students and global users aged 13 or over. As of October 2018, India, the United States and Indonesia rank first in terms of Facebook user base.
Facebook users must register before using the social network and are free to create a personal profile in order to interact with other users which they can add as friends. Furthermore, Facebook users may join user groups based on workplace, college or school and can also categorize their Facebook contacts into lists. Users can post status updates or other content and message each other. Facebook users can also interact with a wide selection of applications including social games or other services like the photo-sharing app Instagram.
In September 2012, Facebook announced over one billion active users across all platforms. The social network is also accessible to mobile web users and has published a series of apps based on original Facebook features such as Facebook Messenger, which had 1.3 billion monthly active users as of September 2017.
According to Statista, "as of the fourth quarter of 2018, Facebook had 2.32 billion monthly active users." Source
According to We Are Social Facebook have dropped behind YouTube to the 3rd largest search engine in the world.  Source
During the last reported quarter of 2018, Facebook stated  2.7 billion people were using at least one of the company's core products (Facebook, WhatsApp, Instagram, or Messenger) monthly.
Trying to reach an audience only through organic search results leaves gaps in your potential reach and marketers should look for alternative solutions to gain maximum visibility online.  Like all digital marketing, building a following, engaging readers, and generating interest does not happen quickly.
Social networks have had a major impact on our lives and is changing the way companies can connect with customers. Although social platforms were never intended to be used for commercial purposes, they do have a major role to play in company–customer interactions.
Social media networks have become an extremely powerful marketing tool for companies – especially new starters and online businesses that are new to SEO. Whatever your rank though, social media should be a part of your digital marketing agenda and a key part of an integrated marketing approach.
Although search engines do not count likes and shares from social networks at the moment (although Google and Twitter have struck a deal for tweets to appear in search engines), they do provide a different door for you to open and invite customers into your virtual store.  They also provide a way for you to build up some trust with your prospective audience, build advocacy, and also a way to connect with those influencers in your industry who could then carry your marketing message much further.  Social media channels also provide a way to triage any customer service issues and reduce costs to service in this way.
Benefits of using social media for your business
So let's take a look at the top five most crucial benefits social media networks offer online businesses.
1. Drive traffic
Although social media is not seen as an advertising platform per se, social networkers use it to discover content. By linking your blog with your social media networks you instantly post content in your account for others to access.
Providing you are publishing great content with clickable titles, you will drive traffic to your site which helps to boost SEO. If you have a user-friendly website and excellent products, you should also expect to increase conversion rates as well.
2. Raise brand awareness
The worldwide web does exactly what it says in the title. As a result your brand name is seen by more people. And social media is an ultra-fast courier. By interacting with followers, giving advice and making intelligent comment, your brand name and expertise will be noted by more people than traditional advertising can ever hope to achieve.
3. Develop customer loyalty
Customer loyalty is important for the success of many online businesses. A core following enables you to build a strong fan base which will eventually earn you more reach.
Social media networks are arguably the best tools available for marketers to connect with customers to provide customer support and customer service. All of which of course enables you to ensure customer satisfaction.
4. Market insight and benchmarking
Another valuable asset social networks give you more than other marketing tools is market insight. By analysing what people are talking about and what content they are sharing, it is possible for brands to determine needs and desires of consumers.
Innovative firms can use this information to their advantage, either by filling a gap in the market with a new product, or designing a marketing campaign around an existing product that can solve a problem or benefit customers in some way.
5. Lead generation
Social media has without doubt, huge potential to improve lead generation. However, brands need to tow-the-line a little before you reach that stage. It doesn't happen overnight.
Online consumers are not the most trusting of people. You have to earn their trust by raising your online creditability – which you can do by using social networks to provide customer support and service, even fielding complaints.
The survey shows that lead generation does work. 51% of companies that took part in the study reported increased sales as a result of a social media marketing campaign.
Although online networking can take some effort, once you work social media management into your working day, and break through the barriers, you will eventually be rewarded for your efforts. It takes time, it can be frustrating, but statistics show social media marketing does work.
Merely having a website and a couple of high-profile social media networks on the marketing landscape is not enough. You need to build a web presence.
Fortunately, there is plenty of scope. An array of social networks capable of hosting a variety of media content, and numerable opportunities to contribute to third party websites provide a platform for online firms to be seen and heard.
Building a Brand via Social Media
Although social media is not strictly a sales platform, it is proving to be a powerful marketing hub where online businesses can raise their brand profile.
Social networks such as Facebook, Twitter and Snapchat enable online businesses to stress a unique value proposition and improve user-experience for customers.
The principle focus of your social media campaign should therefore be centred around trust. Social users are typically the younger generations and millennials do not fall for advertising – but they are responsive to brands they trust.
Social media marketing etiquette
The key point to remember, is that social media is not designed to be used as a virtual billboard, or at least social users do not want to be bombarded with promotional copy and advertising slogans. Social users want to interact with each other and brands need to carefully slide into the conversation so that the dialogue between friends becomes a trialogue which includes the brand too.  There is an etiquette to follow, or you'll soon lose followers and likes and be tweeting and posting into the vortex.
You'll find your brand muted on Twitter and unfollowed on Facebook.  Even if your follower count doesn't go down you might find you've discreetly been muted for 'over-selling' or simply just getting the message wrong in the first place.  Etiquette and audience-understanding are key.
Publish quality content
It goes without saying that the quality of your content will determine the number of readers you attract. And social media is a great way for getting your content in front of more people.
Professionals can take advantage of the social culture by positioning themselves as an expert in their field and developing trust with followers. Post quick tips that are practical and actionable, publish comprehensive how to guides and answer the questions of your followers.
Use attractive images
Images and videos are proving to be the most effective media for attracting clicks, likes and shares. If you are publishing an article, an accompanying image at the top immediately captures the eye of your audience.
Ideally the image should catch the eye, relate to the theme of the article and be of generally good quality. Branded images and other social media assets are preferable as these help to generate the 'halo effect' via a consistent look and feel across every toughpoint your prospects and customers have with the brand.
Use video
Video has obvious benefits for advertisers and statistics show has the highest click-through rate of any online ad format.
Develop a brand personality
Building an online brand is tantamount to you becoming a mini-celebrity – providing you get a following that is. And you will have a better chance of growing your fan base if you have an infectious personality.
Projecting your personality through writing and images is obviously more difficult than standing on a stage or being interviewed like the top stars are, but it is not entirely impossible. You could even make a video with you in it!
The key to mastering an online personality is to develop a voice that reflects your brand image. The main goal is to earn the trust of your followers so they believe what you say.
For example, some businesses can afford to be light-hearted and bubbly, whereas some businesses need to portray and air of authority and be more serious and business like.
But whatever personality you need to reflect in your brand, make sure you get one thing right – be human. And talk to the reader like a human. Imagine they are sitting in front of you face-to-face and bring this out on your writing.
Partner with social media influencers
The quickest way to earn the trust of your followers on social media is to get an influencer on board. Unfortunately that is easier said than done as celebrities are very selective about which brands they choose to be associated with.
However, that should prevent you from following celebrities you know have some interest in the products or services you provide. A Google search for "celebrities wearing Shwood sunglasses" for example will churn up a reasonable list of celebrities to troll.
The key point to remember about social media marketing is that users are there to share their experiences and ideas – not to buy products and flick through advertising material.
Therefore your goal should be to create a brand personality that is liked and trusted. Be active on social media by answering queries and joining in on conversations and eventually you will become a social celebrity.
Content marketing via social media
Publishing content is the best way to attract attention on social media. If your online business is new to SEO and thus does not rank in search, social media networks are a great way to target an audience.
By posting content, you can drive traffic to your site, whereby you can potentially improve your search rankings and your conversions.  Remember though, it's not the act of sharing content or getting people to merely like and share which gets the increase in rankings.  It's the 'building buzz' around your site and bridging gaps between you and the industry influencers who might then find your content useful enough to want to link to it as a reference for others. However, your content has to be good enough to attract attention and your on-page sales copy has to be good enough to persuade browsers to buy.
Another massive boost social medias can give new websites is instant access to prospects. This means being active on social media and engaging with them, either one on one or in groups.
Comment on posts they make and whenever you share the same interests, tell your follower about your experience or knowledge. If they ask a question, give them your best answer and demonstrate you are an authority in the field.
Social media networks are intended to be casual hangouts for exchanging knowledge and entertainment. Don't go steaming in trying to sell your expertise. You'll soon get banned from groups if you're known as the local niche spammer.  Give your connections genuine advice just as if you were giving advice to an actual friend.
Word of mouth recommendations
The best form of advertising is, and always will be, word of mouth. Consumers typically buy products and services based on the word and experience of others. Therefore by encouraging feedback from customers in your social network, word of your expertise spreads over a broader slice of bread.
Join groups and start your own group page to share knowledge and advice with peers and prospects. The people that engage with these groups are typically other industry professional who might share your content, and prospects actively seeking to buy products or services.
Groups are a great platform to fluff your feathers and underscore you as an expert in your field, and by attracting word of mouth recommendations within this circle, it will attract customers ready to convert.
Quality of followers
Your choice of connections count on social media. One reason for this is to target customers ready to buy, and also to encourage writers covering your industry to link into your content.
Do not miss this linking opportunity as inbound links are excellent for increasing your search engine rankings and uplifting your citation and trust scores.
The other reason for selecting quality customers rather than acquiring as many followers as possible, is because social media networks want you to buy paid advertising, and to do this they cut of the supply line to customers so that only a small percentage receive your content. As a result you have less incoming traffic and fewer conversions.
You can improve this rate by inviting members to join social groups which enables them to receive your content in their newsfeed. Their connections will also see this and maybe ask to join the group (see above for benefits).
Content and consumer research
Social sites are also excellent research tools. They provide a window to the world at large so you can analyse what people are talking about, what content that are sharing and what concerns they may have that you can solve, among other things.
You can learn a lot about your followers and build profiles so you can target content in their direction. You should also be checking out what type of content users are engaging with to get inspiration for your own blog posts, ads and landing pages.
Social media is a unique marketing tool that presents opportunities marketers have never had before. But despite all the benefits it offers, it is no walk in the park, so take some time to learn how to get the best from it.
Marketing via social channels
Getting started
Be socially active
Using your string of social accounts to host your content is ineffective. Now social networks have stemmed the flow of organic reach, only a small portion of your audience receives your work.
In order to be spread content evenly among your followers, you have to interact with them. If there is no communication with members in your community, access to your content is cut-off or denied completely.
Marketers also need to be active on social media to raise brand awareness and actively help followers find information they need. It's all part of modern day online digital PR.  It's also important to be aware it's not the number of people you are connnected to or who follow your brand through social media, but ensuring they're the right type of people.  Whilst it's a cliche, the only effective message is the right message at the right time to the right person.  Find out who your ideal target customer is, where they hang out, the subjects they are interested in and the language they speak.
Using emerging social platforms
Now that leading social platforms are choking organic reach, a spate of alternative social networks has grown in importance over the last few years.
Sites such as HubPages, Quora and Medium are providing companies with digital space to publish content and reach an audience.
The advantage the emerging networks have is that their users can actively find content they want, so like search engines there is user-intent you don't get with the major social networks.
These new social platforms are also beginning to gain traction in search engine results and are appearing on page #1 of Google for content searches, far more often than Facebook or Twitter.  Their question and answer format often meets the informational need of search engine users looking to find solutions to their problems.
Be a contributor – contributing to industry magazines
Guest posting has all but died a death – at least in the eyes of some digital marketers. The malpractice of publishers trying to manipulate rankings by paying for inbound links damaged the reputation of contributing to third party sites.  Even the larger sites such as Forbes, Huffington Post et al have a whole host of guest bloggers selling links in the blog posts they contribute and Google have said they are likely to ignore links out of sites known to have abused blog posts.  You're literally throwing away your money if you pay some blogger who offers to add you a followed link from one of their posts to some of these sites.
These kind of activities certainly damaged the inbound link system for reputable writers contributing to industry magazines. But even though contributors are only awarded no=follow links, writing for industry magazines is still worth the effort.
Because industry magazines carry a fair weight of authority, publishing content with third party editors raises your trust score with readers and possibly even search engines, although Google has never, and maybe never will, acknowledge this.  However, Google have confirmed they do carry out some kind of sentiment analysis when they decide which sites to rank and this is where contributing and showing authority really helps.
Industry magazines are managed by editors that have some knowledge of their subject, and demand a higher quality of writing and knowledge before they will accept a piece for publication.  Position yourself as a subject matter expert and offer to contribute.
Contributing to authoritative third party websites not only raises your online profile, but also positions you as an expert in your industry. And trust carries a lot of weight with online consumers whether you are a B2B company or B2C.  B2B decision makers are after all consumers themselves so don't think because you're dealing with B2B markets your contributions will go unnoticed.
Now paid advertising is taking up screen space in search results, marketers have to find new opportunities to increase visibility. And building an online profile across multiple platforms is the best option.
Interrupt the conversation on social networks
Social media networks were never intended to be used as online advertising bill boards. Still, this is what they have become. And social networkers do not particularly like it.
It seems that avid users of social networkers are not interested in receiving "noise". This is what they call content they don't want. They prefer to know what friends they haven't seen for years or do not even know are eating for dinner. Too much noise gets blocked, or they unsubscribe altogether.
So marketers need to be socially savvy in order to get followers interacting, talking about them and purchasing products.
Develop relationships
Social media users are not so against receiving adverts. They actually recognise that following brands gives them easy access to assistance that will answer their queries. How convenient is it to contact your local sports store and ask, "Have you got any Nike Air Max in a size 9?"
This would be great of course, if all of your followers were approaching you with questions you can answer in their favour. In reality it does not work like that – primarily because social media users are savvier than marketers.
Brands have to be visible on social media networks, and that does not mean simply posting content and sharing the content of others, but actively engaging with followers. Comment on their wall, compliment their posts, like their comments. You know the drill.
This may all seem superficial, but by building relationships, you build trust, and that is an important aspect consumers consider before they opt to purchase from brands online. Furthermore, you eventually want to make them want to approach you, so show followers you are approachable.
Finding the right followers
Building an audience on social networks is easy. Finding followers that are genuinely interested in your brand, your content and your products on the other hand is not.
And what is the point of having thousands of followers on social media sites if they are not engaging with you?
If you do have a huge following you may want to consider culling followers that are not engaging with your content or visiting your store. If you do not have customer profiles to determine which followers are most likely to show an interest, write a quick message asking if they are interested.
You could this by making an offer. Followers that reply you can keep on-board and everyone else can go. Culling followers is an essential exercise on Facebook since they limited the number of fans that receive content through organic reach.
Encourage customer reviews
Remember earlier we mentioned building trust? Well, there is no better platform than social media to win over the trust of your faithful. By encouraging customers to leave comments on your wall you get digital word-of-mouth marketing, far and away the best form of advertising.
Some companies even take social interaction with customers to the next level and use their social accounts as a platform to conduct customer service. Large companies know that not every customer will have a good shopping experience with them, and they also know that people are more likely to talk about their bad experiences than they do the good ones.
And this is why companies have reverted to practicing customer service on social media, otherwise their wall would be plastered with complaints that go unanswered – which looks really bad. Show other customers you care and resolve complaints satisfactorily.
Social media marketing provides companies with ample opportunities to interact with customers and raise the profile of their brand. But the best way to use social media is not for self-promotion, but for getting your followers to promote you by giving praise and recommendations.
How To Nurture Future Prospects on Social Media Networks
Internet marketing on social media is a free for all. Online businesses are accruing followers wherever they can find them, and throwing out content in the hope their social media "friends" will read, like and share.  We've all asked our family and friends to 'like' and share out content, but what if our family and friends are not the right audience for us.  We don't just end up showing our posts and tweets to people who are not interested in what we sell, but we also potentially skew any future 'look-a-like' audiences we want to build by adding people from outside our target persona segments.
The problem for most brands is that the audience they have asked to follow them are not interested in their products or content. According to Adage, only 1% of Facebook users engage with brands.
However, other researchers have found that brands are successful at engaging prospects increase customer loyalty. According to Bains.com, customers engaging with brands on social spend 20-40% more than customers purchasing through regular channels.
So how can online businesses attract the right audience and engage with them through social media channels.
Be proactive
Reactive marketing is a thing of the past now that social media and semantic search are taking over the marketing landscape. Online businesses have to attract customers to them by being visible.
This means publishing content and engaging followers on social media networks. However, if your followers are not a true audience you are wasting your time, money and energy.
Target a specific audience by joining groups which have members that have an interest in your brand and product. If no such groups already exist, then start your own.  Do the research into your target audience and find out who the influencers are and what they like and share.  Find out who they are connected to and reach out to connect too.  Of course, it can appear odd if some random brand begins to follow them so it makes sense to try to join in the conversation in a non-intrusive way.  Think about how you would feel if someone rudely interrupted with something irrelevant and you didn't even know who they were in the first place.  Social media allows us to sidle up to the conversation, listen for a while and then identify the most opportune moment to interject with something relevant which will be of interest.
Dedicate personnel to social media
It is not always possible for every small business, but if you can afford to dedicate a member of staff to manage your social media accounts, you can connect with customers in real-time.
Grooming prospects on social media is akin to wining and dining clients before they sign a multi-million pound contract. Socialites do not go to networks to purchase products and read adverts, they go to engage with friends, followers and content that interests them.
You therefore have to engage with social media users by answering questions, comments and sharing their content just like any other regular social media user. But to do this is time-consuming and requires a dedicated networker who will help to manage your growing community over time.
Become an opinion leader
You should by using social media networks to increase your visibility on the web and position yourself as an expert in your industry. Providing you've followed steps one and to, targeted the right audience and have a dedicated member on hand to answer queries, you can raise your online profile as a trusted authority.
This requires being an opinion leader rather than just having an opinion. If you do express your opinion, give your reasons why you think things are this way and back it up with evidence.
Internet users are looking for information they can trust, but it is often the case that they will hear more than one option. So which do they trust?
Information supported by stats and facts (and credible research) is more likely to be believed than a random opinion.
You can provide stats and facts in your own content, but if you have not already published content that is relevant to the query you are answering, direct the respondent to content that tells them what they need to know.
In such situations, you should also publish your own content on the matter whilst it is fresh and relevant.  Ensure it is supported by some evidence or a credible source who has led in the field before.
Social media offers many benefits to online businesses, but you have to use the platform wisely to appeal to relevant prospects, rather than systematically using the tools to blindly accrue a following that are not really interested.
Social media etiquette
Social media is an important tool that allows online businesses to connect with customers and drive traffic. But not every company is achieving results from social networks.
There is a code of conduct – social etiquette, let's say. Knowing how to correctly use social media is the first challenge marketers need to master. So to get you started, here are some top tips from social media marketing experts.
Mine Twitter to Grow Your Audience
The first objective of a successful social media campaign is building a community of followers that engage with your content and have a genuine interest in your products and brand.
Easier said than done, and a fair amount of research is involved building customer profiles. And time is not a luxury many online businesses can afford to flitter away.
According to social media consultant, Mark Schaefer, the quickest and most effective way of accruing valuable followers and developing an audience is by mining Twitter.
Look for specialist communities and follow influencers in your field of expertise. This will allow you to tap into users engaging with the people you are following.
Influencers are bloggers and celebrities that show an interest, or are affiliates of a specific brand, most of whom use Twitter as their social tool of choice. They like quick tweets, it's fast and efficient.
And mining the followers of influencers enables you to tap into people that already have an interest in your services and products, thus are more likely to engage with your content. This is best practice for businesses that are new to online marketing or if your social media strategy is not working.
Use images and videos as visual gateways
Visual images are eye-catching and tend to get more clicks and shares than any other type of content. Although images are typically used in written content, they do not become the stand-out feature.
But by making images the main feature of your content, you increase your chances of attracting traffic. But image-only content alone will not help you improve conversions – so it should be used as a stepping stone to richer content.
Using visual content as a gateway to services or product pages, or even detailed blog posts, becomes a vital part of your purchasing process, and given users are reluctant to engage with advertising content on social networks, is a user-friendly approach to lead consumers along the path.
Images include photos, video footage, animation and infographs. They can obviously be used in several different ways, but the key purpose is to attract the reader's attention and compel them to click-through to the content on your website.
According to a survey conducted by socialmediaexaminer, content with photos receive much more engagement than content with no images – and without fail. Furthermore, 82% of marketers that launch promotional videos report higher levels of engagement.
A few tactics for your social media campaign
Social media networks have become the number one platform for marketers to launch content in the face of their followers.
However, poor content and bad advertising gives your brand a bad reputation, quickly followed by a mouse click on the unfollow button.
Get your social media strategy right however, and you can leverage your online business and generate more conversions. Here are a five tactics to engage readers.
Quality of audience over quantity of audience
It has become a sneaky custom of social media networks to extract cash from business customers using their platforms as virtual billboards. The ultimatum is to either pay to pitch your posts, otherwise they will only reach a small percentage of followers.
A few years back it was the trend to accumulate as many followers as possible to increase the chances of attracting traffic. Social networks have kicked that into touch.
The aim of the game now is to find an audience that WANT to receive your content and actually engage with your posts. Look for the followers that share a genuine interest rather than clocking up numbers.
Be transparent with your audience
Online consumers want to be able to trust companies they buy from. Word of mouth, peer to peer reviews and great customer service still control the reins of marketing.
And social media gives you the ideal opportunity to get great feedback about your products and service. You can leverage your business by being transparent.
Whilst there is nothing wrong from encouraging your clients to leave feedback, you can proactively engage in dialogue with customers by using social media networks as your customer service tool.
Be on hand to answer questions, post FAQ's, fish for testimonials and above all show your aptitude for resolving problems. If a customer has a complaint, be swift to react in a cordial and helpful manner. Humans make mistakes, it's the way you own up and resolve them that gets you the applause.
Avoid click bait unless you can back it up
Social media has redefined the way in which we communicate with each other. For online businesses, dynamic social platforms have allowed them to extend their reach, raise awareness and drive traffic to their website.
We also have social networks to thank for the rise of viral content. "Sharing is caring" has become a general motto, and as a result, some content is being viewed by thousands of people who would ordinarily have never received it.
So why has Facebook shot down viral marketing?
Facebook ban clickbait
Writing headlines is a skill copywriters perfected with clickbait – titles that entice readers to click on the article to find out what happens. Typical click bait headlines include, "You will never believe what happened next," "This video proves…," and "what happened next made me cry."
When done well, click bait headlines are a very powerful tool. Beneficiaries of viral content attract huge swathes of visitors and significantly increase profits.
The problem is, the content does not always offer readers the value the title promises. And that is why Facebook has taken action to prevent unwanted content appearing in the Newsfeeds of its users.
How does Facebook measure content that offers value?
Content designed to drive traffic to a website includes a link. Facebook use metrics that time how long a user's account has been inactive after they click on a link that diverts them to a third party site.
If the user appears to be away for some time, FB can assume they found content that interests them and will allow this type of content to appear in their newsfeed. Likes and shares confirm they want this type of content in your newsfeed.
On the other hand, when users return almost straight away, it is a good indication they were not interested in the content. FB then makes the assumption, this is not appropriate content for that user.
How to craft clickbait content
It is often the case that clickbait titles offer a promise that ultimately leaves the reader disappointed. This is a big no for search engines and social media networks, all of whom are trying to prevent such deception.
There is nothing wrong using clickbait titles if your content backs up what you promise. But if you do not deliver what readers are anticipating, you lose credibility with consumers which will eventually lead to you losing the trust of social networks and search engines.
Host a contest
Running a contest, challenge or offering giveaways have proven to be excellent ways of attracting audience engagement. Few people reject free stuff or a bargain, and a surprising amount of social users are happy to join in on a contest if it is fun. Photo selfies are known to go viral!
Interview influential figures
Perhaps not a realistic solution for everybody, but most industries have influential figures. This does not necessarily have to be a famous person, but maybe a public speaker or even a self-confessed expert will do providing they have relevant work to show for it.
Your influential figure may even be a spokesman of a recognised company in your industry or a well-known brand name you sell. There is no harm approaching companies and individuals to ask for an interview. Given you are giving them exposure, you will be surprised with the number of people that will accept your invitation.
Companies that do not have a giant budget to blow on paid social advertising, have to think of more creative ways of attracting an audience, and although ideas present a greater challenge than firing of an electronic payment, positive results are more rewarding.
Consistent content
To maximise the potential of social media networks you have to be visible. You can do this by publishing content on a consistent basis. Don't panic, it doesn't always have to be your own content – unless you have the resources to publish high volumes of content of course.
But most companies do not have time or money to invest in publishing content through social networks on a consistent basis. Which is why sharing the work of others is so popular. Experts have been saying this for years and it still features on their list of social media strategies.
Strategic hashtags
According to Peg Fitzpatrick, author of "The Art of Social Media," using hashtags willy-nilly is not a strategy. Well, not one that works. What she recommends is to use hashtags that tie your pieces of content together.
That means curating content for a social media marketing campaign that correlates with one another – a series of articles that reveal stage-by-stage processes for example.
Once you create hashtags, they can be picked up by other users searching or posting content on the same subject. Hashtags that are easy to spell and remember are the most effective.
Linkedin Publisher reach
The Linkedin Publisher feature has turned out to be an effective platform for online professionals. Perhaps more than any other social media network, Linkedin enables you to target the right people, especially B2B users.
And because social media marketing success relies on brands increasing visibility and positioning yourself as an expert in your field, Linkedin publisher enables you to your content in front of more people that will take an active interest.
Every time you publish a piece of content on Linkedin Publisher, your connections receive an alert. The social network may also notify users of your content through the Linkedin Pulse feature if the user has shown an interest in your content or the subject matter in the past.
According to senior content marketing manager at Linkedin, Jason Miller, writers publishing long-form content that is detailed, well-researched and offer rich value to readers are having the most success on Linkedin Publisher.
There are many strategies you can use on social media, and what you do next depends on your company interests and what state of affairs your social campaign is currently in.
Regardless of which social network you prefer, there is always a key strategy. What you have to discover and decide is which social network best suits your company, and which strategies will be most effective to promote your content and interact with prospects.
Impact of Social Media on SEO Rankings
Search engines may not rank interaction on social media networks, but using platforms like Facebook, Twitter et al does indirectly influence search standings.
Given Google, Bing and Yahoo! intend to promote websites that produce engaging content. It may come as a surprise that likes and shares do not count towards how well a page ranks.
How content marketed on social affects ranking
Social media networks are a means of reaching your audience who then click through to your site.  This would be counted as referral traffic rather than organic search traffic of course.  Marketing content via social media provides a quick and (hopefully) effective way to reach not only a defined and appropriate target audience, or segment of audience, but also the 'linkerati' (those who have the power to link to your content.  The six degrees of separation rules are much easier to take advantage of over social networks when you may be just a few connections away from a major audience influence who could potentially become an advocate or even a co-creator with you.  Building relationships via social media will also come in very handy when you share your content.  Fingers crossed, those other members of the social community will be only too pleased to share your content and spread your news
However, you still have the challenge of competing with other content publishes to capture the attention of your audience.  Ensure you research your audience well and understand their needs and pain points.  Identify the top tasks and interests they have and produce content which is valuable.
So what makes content compelling?
Analysis of social attitudes show that people mostly share content that give an impression about themselves they want other people to believe fits their personality.
This essentially means anything interesting, amusing or intelligent. There are many ways of achieving any of these fundamentals, providing you stick with at least one of these key components:
provoke emotion, (get a reaction)
entertaining, (funny, enlightening, interesting)
useful and practical, (how to articles)
relevant to your brand and products
Social media may not influence search results directly, but it does improve visibility, direct traffic and increases the potential for inbound links. Social media in your online marketing should therefore not be disregarded.
Facebook v Twitter: Which Social Network Is Better For Business?
A spate of social media networks are battling for the attention of marketers. And to win, that means acquiring the most users. There are a few players in the mix it has to be said, but the superstars are without doubt Facebook and Twitter.
So we thought we would put them head to head so you can consider which is best for your business.
Twitter v Facebook – Finding connections
Whilst both social tools are highly effective for acquiring and engaging with contacts, Twitter has the edge on the quality of followers you attract. Tweeters are blessed with a better search engine than Facebook thus is more effective at finding the right audience.
Twitter v Facebook – Engaging with followers
Being active on social media involves engaging with connections to raise the awareness of your brand and position yourself as an expert in your field.
Twitter – Twitter is excellent for getting involved in conversations, but if you follow too many contributors your newsfeed can get flooded with tweets very quickly. And with some much incoming, it is easy to miss articles you are interested in amongst all the mundane content you are not interested in. Keep followers to a minimum and you resolve the problem.
Facebook – Facebook on the other hand gives you more control of whose content you do not want to receive. However, since they shed the amount of content you receive to just six per cent, you will also miss content you could use to engage with prospects. Starting a group to which you can invite followers that engage with your content quickly helps sort the wheat out from the chaff.
Twitter v Facebook – Opening your virtual door
Facebook – Facebook usher businesses towards creating a template for their business to accrue likes. But you can't really do much with the page. Users to contact you privately. If you work in a business that requires discretion, it is more difficult to engage with customers.
Twitter – With Twitter though, you can get instant access to their profile from where you can send private messages.
Twitter v Facebook – Networking
Twitter seems to be the preferred tool for business networking. The limited number of spaces mean users are not receiving long winded messages and you only need to connect with the people you need to know.
Your Facebook tends to attract friends and family that hang on in there and receive your content even if they don't really want to. As a consequence they count as part of the six per cent of followers that receive your content every time you post on your wall.
Linking up with similar content
Signposting a particular subject with a hashtag # enables you to link to other relevant content whereby you can expand your community and raise awareness. Okay, you put yourself in direct competition with other content curators, but if your headline is strong enough you should receive your fair share of traffic.
Breaking news
Your blog can attract new traffic if you are on the ball with breaking news. If you are in an industry that sells popular products such as smartphones, Twitter is a breeding ground for press releases. Businesses post on Facebook as well, but you might not get it and have to scour the pages of your contacts to discover if they have posted anything interesting.
It really depends which industry you work in, but head to head, Twitter has the edge for business flexibility. You should, of course, experiment with both. Which social media network is best for your business?
Essential elements of successful social media marketing campaigns
Social media has been hyped up as a golden ticket to better business and bigger brands. Over the last few years it has been easy to get the impression a Facebook and Google+ account is the proven recipe for online success. But business owners have found reality proves much more difficult.
Turning social media into profit is a tricky and time consuming process – one that takes a lot of planning, execution and fine-tuning. Above all it takes enough patience and investment to find the right formula for your business. But to make this process faster for you we're looking at the essential elements any social media marketing strategy needs.
Getting Started
#1: Research
There is no such thing as too much research and this is always stage one of every digital marketing strategy. It's the most important part too because you can't make a success of social unless you know exactly what your audience wants and where they hope to find it.
The two key areas of research to start with are audience and social network research. You need to understand your target audience better than you know yourself if you can hope to create the kind of content that makes them tick. And you also need to know your social networks so you can determine which ones will help you meet your targets.
#2: Clear goals
Which brings us on to setting your goals. Too many social marketing campaigns start without clear targets in mind and this is a sure-fire way to waste time and money. The more specific you can be with your goals, the easier it is to measure your success and improve performance. So don't settle for vague goals like increasing brand awareness – target specific increases in traffic, conversions and social engagement.
This is just one example of what your social goals may be, but be specific and put down numeric targets with deadlines. This way you can assess your performance along the way to check you are on target. If you're not then you know something needs to change and specific goals make it easier to diagnose issues.
#3: Network specific content
We've already mentioned the fact you need to know your networks to choose the most effective channels for your social efforts. With your initial research taken care of and your goals in place you should have everything you need to select your networks with confidence.
You only need to start with two or three networks and you can always add more as your marketing campaign matures. The most important thing at this stage is that you create a successful stream of content that specifically targets your audience and the networks they use. Content across LinkedIn differs greatly to Facebook and you need to tailor yours accordingly.
Planning a campaign
#1: Set your budget
One of the biggest mistakes business owners make is thinking social media means free advertising. In reality, social media marketing takes a huge investment of time and money to make things happen – and you need to set out a realistic budget. You need the people power to run and maintain your social presence – something that doesn't come for free. and if Facebook is part of your social plans you need to think about paid advertising.
Organic reach on Facebook is almost non-existent, which means you need to pay up if you want people to see your content. And money aside, you need someone (or a team of people) to run and maintain your social networks if you want to effectively engage with your audience.
#2: Decide your schedule
A regular schedule in social media marketing is important for two reasons. Firstly, you want your audience to know when your content is published so they don't miss out on anything. But you also need to be aware that different networks have various peak times to post social content. Don't expect to catch many LinkedIn users on a Friday, for example, and early mornings won't get you very far on Google+.
Get to know the nature of your chosen networks and when users are most likely to find your content. You want to engage with new prospects as well as your loyal audience so do your research and post at the peak times for each platform.
3#: Integrate social into your wider marketing strategy
Social media isn't a standalone technique and you need to integrate your social efforts into a wider marketing strategy. Social plays a key role in building your brand, targeting relevant traffic and generating conversions – but it can't do it all alone. Your entire content strategy, search optimisation and inbound marketing efforts need to work in sync to hit targets.
Create a journey from your social media posts to the pages on your website that generate conversions and use social micro content to grab your audience's attention. Invite them onto mini blog posts, infographics, videos and other forms of content so you can keep them moving along the sales process and guide them towards a conversion.
Action and measurement of campaigns
1#: Visual content
Visual content gets the most engagement on a majority of networks and bags more likes, shares and comments than text-heavy alternatives. So visuals have a huge role to play in your strategy – with videos, infographics and images as key elements.
LinkedIn is the exception to the rule and the text-orientated network is a place for you to build authority in your industry with articles and professional contacts. While micro-content should be a prominent feature on more visual networks to grab attention.
2#: Social customer care
Social media has risen as a new platform for customer service, where people can speak directly to brands and resolve issues. It can be a scary concept to wash your laundry in public, but transparency is a key theme in social media and showing your fans how much your care about customers is a chance to make a statement.
Social customer care also brings you and your customers closer together – a vital part of creating a social community where people want to be. Outside of your customer service efforts you want to include happy customers in the equation too. Encourage them to show how your brand pays a role in their lives with images and videos, while competitions are a great way to invite new members into the community.
3#: Analyse, test and fine tune
As with every part of your digital strategy it's vital you measure and optimise your performance to get better results over time. If things could be going better you need to address issues and find a resolution. While things change quickly in this industry so you need to keep an eye on your metrics to make sure you don't get left behind.
Social media also has this stigma about proving ROI and data is the only way to show business execs that your social efforts are profitable. It takes time and money to make social pay off, but the results aren't clear unless you have the right numbers to prove it – so tools like Google Analytics are essential as well as the built in analytics provides by each platform.
Avoiding Legal Issues with Social Media Marketing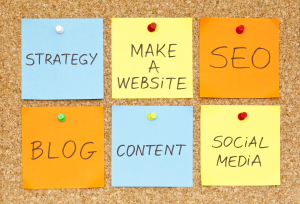 Marketers using social media run the risk of infringing legal issues that have a negative effect on you and your brand. And could seriously but a dent in your finances if you are ordered to pay damages.
But don't panic, there are no major concerns and you are probably already aware of legal issues that can arise. That said, potential problems are worth going over and keeping in mind.
It is worth pointing out at this stage that I am not a legal consultant, therefore do not take the following as advice. This article is only to raise awareness.
Be careful what you say
Social media largely includes posting messages into a public domain. You are therefore responsible for what you say. Advertising laws require companies to be honest about their products and services. Don't say you can do something if you cannot deliver as this damages your credibility and you can be sued for damages.
Likewise, if you say your product provides benefits that it does not, or if you lead consumers to believe your product does something that is not true, you will be in trouble with the advertising agency who will ban your advertising and issue a penalty.
You are also accountable for defamation so do not spread rumours about your competitors. These type of legal actions brought against you can be very expensive.
Avoid duplicate content/plagiarise
Never use content that somebody else created. All content that is published whether it be text, graphic, image or video is subject to copyright. Unless the copyright holder gives you permission to use their content for commercial purposes, you are not entitled to use content created by a third party.
With regards text, Google algorithms can identify duplicate content and your site will be pulled down until the content is removed. Other types of content can also be used by publishers that have embedded code into copyright material. If you are found using third party content without permission, legal action can be taken against you and you may have to pay damages.
It is always the safest approach to create your own content, but if you have no option other than to use third party content, such as images for blogs, only use images that have been awarded a creative commons licence and allows commercial use.
These images are typically flagged up with a person in a circle, a bit like the sign on male toilets. If photos have "some rights reserved" check out what they are. Normally it just involves crediting the originator which you can do in the "caption" field of your CMS when you load up the image.
Don't run lotteries on social media
The definition of lotteries is when entrants are asked for something in exchange for being involved in a draw and the winner is selected at random. However, the law include giveaways as games of lottery, so if you are offering a prize that involves chance rather than skill, you could run the risk of a government fine.
It doesn't matter what you ask from the contestant. It could be something as simple as a leaving a comment in exchange for a gift. This is tantamount to bribery. The same applies asking people to share your photo in exchange for a discount or free deal.
This law does not mean you cannot run a contest. You just have to be very careful about the contest rules. Contests, unlike lotteries, are games of skill, whereby the winner is selected because they best fit the allotted criteria which is announced at launch.
Disclosure about sponsor and influencer relationships
If you have incorporated the services of a sponsor or an influencer, the third party must disclose they are "in association with" you. They should also mention any sample gifts or payments you give them.
For example, if you sell mobile phones and send a magazine a handset to review, they must state they were offered the device for hands-on testing. This gives you and influencers more credibility, especially if the reviewer mentions the bad points as well as the good points.
The influencer does not have to state what item they received expressly. A simple #ad will do, especially on Twitter where you have limited space or Instagram which mainly focuses on images.
There can be some confusion about what marketers can do and can't do on social media. Hopefully this article raises awareness, but if you are running a social campaign for your company, check with a qualified professional that you are not breaching any rules, or don't run the risk at all.
How to use social networks for lead generation
Established authority
The reason you need time and patience is because you need to earn trust from other social networkers. Before you start to see developments in lead generation strategies, you have to establish yourself as an authority in your field.
This involves being socially active so that you are on-hand to offer advice and answer questions your followers have. It also means getting customer feedback and keeping your brand visible through blogs and newsletters.
Do your research
That little ditty is not the only disappointing news for social butterflies eager to go diving in and get started on social media marketing. We know it's an exciting prospect, but steaming in unprepared will waste your time in the long run.
The first decision you need to make is which social networks will work best for you. There are too many to use them all so limit yourself to two or three. Vine or Instagram gives you good alternative options for content marketers creating image and video campaigns.
You need to do some research and determine, what audience you mostly want to target (B2C or B2B), and which social channel gives you the best opportunity to reach an audience.
Advanced audience targeting
Social media enables you to understand your audience better than any other advertising platform, and it is incredible how much data consumers are prepared to share. They even tell you what they are thinking.
Demographic targeting in social media is important, but you can elevate leads by understanding the psychographic of your followers. You grade this be measuring and analysing patterns of behaviour.
Take your consumer data and develop profiles of your followers to include lifestyle, attitudes, expectations and activities. Having this data to hand can influence your marketing strategy and direct you where you put your ad spend.
Lead generation tools
You easily increase your chances of generating leads and closing sales if you have social media software to alert you to prospects. Listening tools in particularly give you instant opportunities as they alert you to followers that are talking about your brand, products or related topics.
A customer is for life.  Not just for Christmas
If you are new to social media, or looking for ways to improve engagement and lead generation, hopefully this insight will have helped. Like everything, perfecting social media marketing takes practice and experimentation, but don't give up too easily, you will get there.
Customer retention is the foundation of every successful business and social media is a low-cost means of showcasing how great your company is. And whilst Christmas is the perfect time of year to attract new customers, the true triumph is keeping them in the new year.
Social media networks give you the ideal platform to engage customers in two-way conversation and develop long-lasting relationships. To do this you need a bit of savvy and a social media strategy.
Great customer service via social channels
Your social media network allows you to showcase how good your customer service is. Whenever you engage with one customer, remember that individual represents all your customers. Give thanks when you have received praise, but also accept blame when you make a mistake.
If you are on the end of a finger-wagging, publicly be seen to offer reasonable compensation. This is good customer service. Everyone makes mistakes – we are only human after all – so most people forgive errors if there is a satisfactory conclusion. Demonstrate what you will do for one customer and every other customer restores faith in your brand.
Add a personal touch
A personal touch makes all the difference on social media. You might even want to post photos of the network administrator so your customers can put a face to a name and give them a virtual shopping experience.  Why not think about letting the audience know who is taking over the social media communications reins each day so the audience again knows who they are talking to.  You could also even respond to people's tweets and add the name of the person who is replying.  In this way you prevent the business social media account looking like a faceless black box of noise with no personality.
Incentives
Sometimes customers need a little encouragement to buy, especially when they don't realise they want something! By offering an incentive and pitching a product they might be interested in, you are putting the thought into their head and some shoppers will return to take you up on the idea. The offer may be a new product, special price product, add-on service, upgrade or special deal just for them.
Don't bombard customers with offers
As a follow on from the last suggestion, it is not good practice to bombard your customers with offers every week. If you overwhelm customers with too many messages, they will be annoyed and more likely to unsubscribe than buy anything else.
Maintain a balance of content
Whenever you post content on your social media account, it is there for everyone to see. According to reports, businesses that only post content related to their own business get ignored given the culture of social media is about sharing and not selling.  Consider a blend of messaging and mix up the ways in which you want to speak to and engage with your audience.  There are so many ways in which you can repurpose existing content and extend upon pieces which have gone before.  In fact, rather than continually created more content, why not take a revisit to some you've already tried and tested and think about updating it or adding a new twist.
Therefore, limit the amount of company content to about 20% and refer customers to interesting news items, funny videos, pictures or quotes instead. Unlike blogging the content you share on social media does not have to relate to the industry you work in.  Take a look at 'The Content Marketing Matrix' which suggests splitting messaging into an 'Inspire, Educate, Entertain, Convince' quadrant.  Look to get a good balance of engaging posts around these themes.
Social media has its fans and its critics in business circles. The critics may well be business owners that do not use social media networks properly and thus have no joy with them.
It certainly takes time to build up a base of reach via social media channels and not every channel will be the right one that works for your brand.  You need to find out where the audience is by carrying out some research and then developing a communications strategy rather than blindly spraying messages into the ether.
Don't become a critic too early (at least certainly not before you have looked at testing some of the techniques which others are enjoying success with).
Image credit: Smart Insights
Social Media Checklist List: How Much Did You Remember?
Now social media marketing is emerging as a promising source of sales, it's probably time you learnt how to take advantage of the medium.
Unfortunately, social media marketing is not as simple as acquiring as many connects as possible and posting ads on their account. Customers do not just flock to you because you have a great offer! There is an etiquette.
But having said that, by following simple rules and dedicating some part of the day to social networking, you can make this effective marketing tactic really work for you!
Remember – Choose your friends carefully
It used to be the case that numbers counted. The more followers you had receiving your content the more likely you were to make a sale. It's how the law of averages work. But that strategy will not work anymore.
Social networks have introduced paid advertising which means unless you pay, the majority of your followers will not receive your content, thus you make fewer sales.
Therefore numbers are no longer important. What is important is that your followers have a genuine interest in your content, products and brand. It is better to have 50 customers that convert than 500 that do not show an interest.
Remember – Don't spread yourself too thin
Social media networking can be time consuming, especially if you are trying to manage more than one account. If you are using social solo, limit yourself to two networks otherwise you put too many demands on yourself. You may need to experiment which platforms will be the most effective for you.
Remember – Get to know your audience
Social networks are a great way to learn about your audience and what they want. Take note of the content they are sharing and the comments they are making. Build a picture of what your audience wants. That way you can shape your content to target their interests.
Remember – Don't use a sales pitch
Using social platforms as an advertising billboard will quickly get you dropped by your followers. They are on there to hang out and share content with friends. They do not want to be bombarded with promotions and offers.
However, that does not mean customers do not exist in social circles, they do. But you have to attract their attention by delivering content they are interested in and getting them excited by products and services naturally, rather than saying you need this.
Remember – Produce content relevant to your audience
The content you produce is key to your social media marketing success. If you do not produce content that appeals to your audience, you will not attract visitors to your site.
You can however, use social networks to determine the type of content your followers are interested in. What subjects are they talking about that relate to your business. If you don't know, raise a query and get a message stream started.
Remember – Engage with your audience / followers
Just because you are on social media to market your business does not mean that should be your only goal. You can actually raise your online profile by engaging with your connections and involving yourself in their comment streams.
If you can offer advice in your specialist subject, jump on that like money falling from the sky, but even if someone posts their holiday snaps, make a simple comment as you would if they were your real friend.
Don't be put off using social media marketing because you think it is a waste of time. Learn how to use it for marketing purposes and you will start to reap the rewards.
Examples of top brands using social media
Social media networks have taken on a leading role in online marketing. Yet social was never intended to be an advertising platform, which can pose a problem for brands.
So how are the top brands mastering social media marketing?
CEO of Boom and co-author of Success Secrets of the Online Marketing Superstar, Kim Garst says, the best approach to social media marketing is to be authentic.
Four Seasons look before you book online campaign
The Four Season hotel designed an app that allows customers to view rooms and explore destinations where they own property. The virtual reality app allows prospects to can hotel room and facilities in 3D before they choose to purchase.
This is an authentic approach and gives the hotel credibility. But the app team did not stop there. They also provided additional information for what visitors could expect from a particular resort, for example whether it is child-friendly or whether it has business facilities.  Four Seasons then proceeded to market the new app via social media platforms.  The hotel chain have done an exceptional job of integrating channels to get optimal impact in an always on type of campaign as well as periodic burst campaigns.
Roberto Cavalli's passion and personal touch
Italian designer, Roberto Cavalli, provides a face behind a name by featuring in his videos and posting images of himself on his blog and Instagram account – among many other images of course.
The personal approach has helped him to accrue over 1 million Facebook fans and almost half a million on Twitter, not to mention another 128,000 followers on Instagram.
And Cavalli is passionate about his brand and fashion in general. He frequently posts content to his blog – which he shares across his social media networks of course!
USAA Interactive
Social media is all about interacting with people, and USAA took advantage of the annual Army-Navy football game by installing photo stations where spectators could capture photographs with a football themed background and share it with friends and family on social media.
The reason why this campaign worked is because the company chose an event that is important to the nation's military personnel and their families. It showed patriotism rather than a company looking to cash in on major league events like the Superbowl, thus surmounting their authenticity and their credibility.
Jet Blue in real time
There is a lot to be said for real-time feedback, and the US low-cost airline JetBlue certainly know how to deliver great customer service for their passengers.
Travelling can be stressful, particularly the journey to the airport. There have been several instances where travellers have been held up in traffic or delayed on public transport and contacted the airline via social media.
The one-to-one interaction helps to calm travellers down, but also informs the airline that passengers may be late, and enable them to make emergency arrangements for when they do arrive. These stories always seem to have a happy ending.
Social media is a dynamic platform, and is not just a useful tool for large corporations and well-known brands. With a little creativity, it can be adopted by any business to increase traffic, raise brand awareness and deliver great customer service.
Need help with social media strategy or campaign planning?
If you are looking for a trusted social media agency to help with you campaign, get in touch.
[wl_navigator]
[wl_cloud]
[wl_faceted_search]