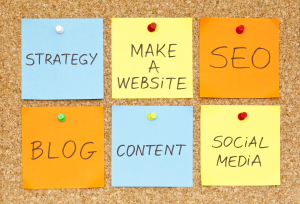 Digital marketing on a tight budget is never easy. Whether you need to invest hard cash into your marketing strategies or the time and resources into making it all happen, there is no such thing as a cheap option or quick fix. That doesn't stop many businesses trying it though and you'll see a number of your competitors take shortcuts.
Which is fine, because it won't work out too well for them – but it means you need to do better. Which means you need to be smarter when budget is an issue and rather than jumping on every marketing trend in the hope it will transform your business, it's better to pick your battles and find the best way to boost your online brand with the resources you have available.
Social media
The best example of this is social media marketing. Just about every business has jumped o the social wagon and many find out far too late that things are much harder than they first appear. Simply setting up a Facebook page will get you nowhere and before you delve into social you need to realise it will take a lot of time and effort to pull it off – as well as financial investment.
If you can't afford to put the time or money into it then you really need to consider if it's worth it at all. The realistic answer is probably not – but that's not to say social media isn't worth it. If you invest in social properly you can expect to see results, but if that's not possible you might want to focus your attention elsewhere.
SEO and PPC
SEO was the original marketing strategy to rise as a 'free' way to build your online brand. It costs nothing to publish content that Google and other search engines will index – but who is going to create all that content? Once again you need the resources to create the necessary content or hire the right professionals. While SEO is a very slow process and you can't expect to see results over night.
Again, this doesn't mean SEO isn't worth all the leg work – in fact, this is the one strategy you pretty much can't ignore. So start with quality content that suits your audience and tailor it to boost your ranking with search engines over time. And if you want to see quicker results you should consider running a PPC campaign alongside your SEO efforts to stand a better chance of reaching page one on search results in the meantime.
Blogging
Blogging is the standard tool for pleasing both your target audience and search engines with quality content. Much like SEO you pretty much can't get by without a blog, but if things are tight keep the quantity down to a minimum and focus on quality. It's much better to publish a top-notch blog post every month than settle for average articles every week.
So sit down and plan out your content strategy and find the right balance between quality and quantity. You may even free up enough time, resources and money to invest a little more into other areas of digital marketing. Just keep in mind that, if you're going to do something, it's only worth it if you do it properly.