Speaking
Our Founder, Dawn Anderson, speaks about search marketing and SEO at conferences around the world.
Dawn has spoken at over 60 conferences in the past few years, both in the UK and internationally, and delivered corporate and classroom system training.  Dawn Anderson (our founder) has also 4 years of experience in delivering lectures on marketing analytics and digital marketing and search strategy. 
If you would like to invite Dawn to speak at your event get in touch.
Where is Dawn Speaking Next?
---
In late 2019 and early 2020 Dawn will be speaking at the following conferences in the UK and internationally.
This will be updated from time to time as further speaking engagements are confirmed.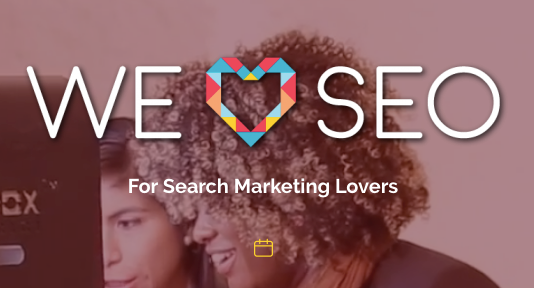 We Love SEO Paris 2019
We Love SEO is a day of conferences, round tables and SEO expertise. The event takes place every year in Paris and brings together French and international SEO specialists who have come to share their best advice and discoveries with participants looking for something new.
Event name: We Love SEO, Paris 2019
Date: Thurs 3 October 2019
Venue: The Gardens of Saint Dominic, Châteauform' City Les Jardins de Saint Dominique
Venue Address: 49-51 Rue Saint-Dominique, 75007 Paris, France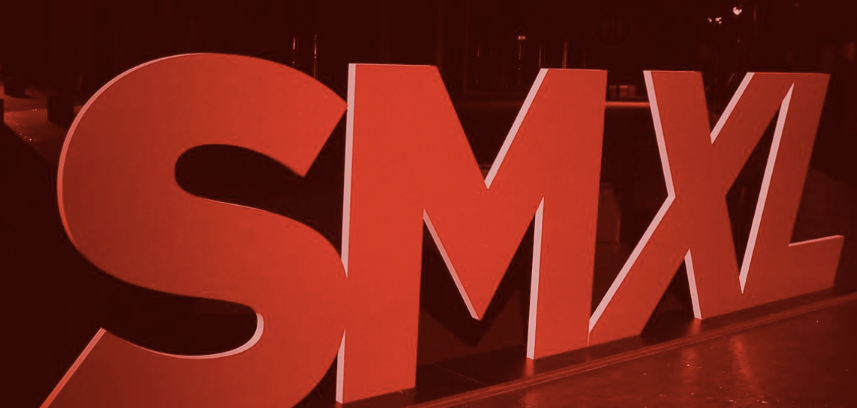 SMXL Milan 2019
SMXL is the only series of conferences in Italy entirely dedicated to SEO, SEM, Search and Social Media that gathers, in three days, the best experts from all over the world. Join SMXL and immerse yourself in the conversation to give new impetus to your projects. Dawn will be speaking about strategic SEO foundationx
Event name: SMXL Milan 2019
Dates: Tues 5 November 2019 – Thurs 7 November 2019
Venue: MiCo Milano Congressi
Venue Address: Milano Congressi, Piazzale Carlo Magno, 1 – 20149 Milano, Italy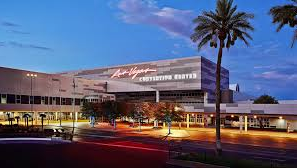 Pubcon Pro Las Vegas 2019
Pubcon will hold its multi-track and expo event on October 7-10, 2019 at the Las Vegas Convention Center in the South Halls. Pubcon is the longest-running conference in the space and the only Full-Stack Marketing conference that addresses every major marketing specialty in depth, covering search engine optimization, paid search and social media.
Event name: Pubcon Pro Las Vegas 2019
Dates: Mon 7 October 2019 – Thurs 10 October 2019
Venue: Las Vegas Convention Center
Venue Address: Las Vegas Convention Center, 3150 Paradise Rd, Las Vegas, NV 89109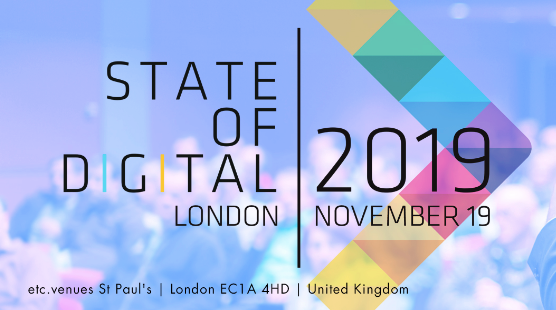 State of Digital Conference London 2019
State of Digital is 9 years old this month and we're celebrating by hosting our Annual State Of Digital Conference, in conjunction with the Search Awards, examining this years top event takeaways, what we've learnt as an industry in 2019 and what we can look forward to in the near future. For the second year in a row, we're returning to London, this time in historic St.Pauls on 19th November with the after-party at the 2019 UK Search Awards
Event Name: State of Digital Conference 2019
Dates: Tues 19 November 2019
Venue: etc Venues St Pauls
Venue Address: 200 Aldersgate, London, EC1A 4HD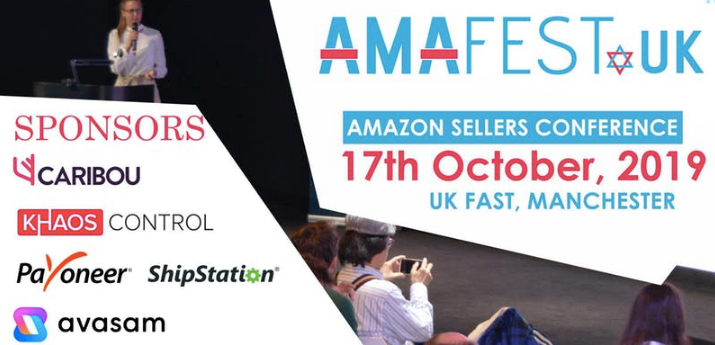 AmaFest UK Manchester 2019
Conference for Vendor Central and Seller Central Users. The event is perfect for anybody who is already trading on Amazon or thinking of selling on Amazon.
Event Name: AmaFest UK 2019
Dates: Thurs 17 October 2019
Venue: UK Fast Campus
Venue Address: UK Fast Campus, Birley Fields, Manchester M15 5QJ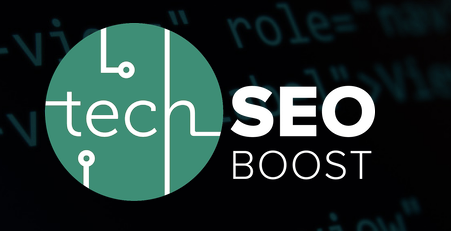 Tech SEO Boost Boston 2019
TechSEO Boost 2019 is the first industry event 100% dedicated to technical SEO. Featuring world-class speakers and loads of networking time, this is the conference for you if you're looking to up your technical SEO game.
Event Name: Tech SEO Boost 2019
Dates: Weds 4 December 2019 – Thurs 5 December 2019
Venue: City Winery
Venue Address: City Winery, 80 Beverly St, Boston, MA 02114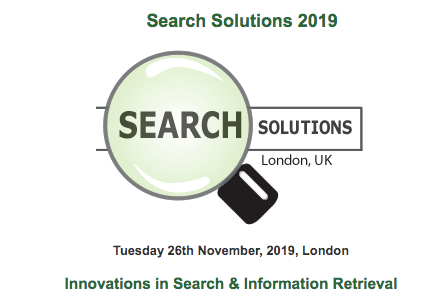 Search Solutions London 2019
Search Solutions is the premier UK forum for presentation of the latest innovations in search and information retrieval. In contrast to other major industry events, Search Solutions aims to be highly interactive, with attendance strictly limited.  The programme includes presentations, panels and keynote talks by influential industry leaders on novel and emerging applications in search and information retrieval.
Event Name: Search Solutions 2019
Dates: Tues 26 November 2019
Venue: British Computer Society London Branch
Venue Address: Ground Floor, 25 Copthall Avenue, London, EC2R 7BP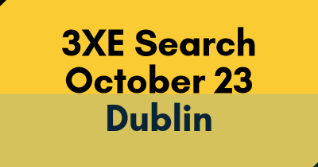 3XE Digital Dublin 2019
3XE Digital Marketing Conference Series are Ireland's leading digital marketing conferences. Delegates learn the latest trends in SEO, PPC, Analytics, SEA, Paid Social, CRO, Site Speed, UX and Design Thinking
Event Name: 3XE Digital Dublin
Dates: Weds 23 October 2019
Venue: Croke Park
Venue Address: Croke Park, Jones' Rd, Drumcondra, Dublin 3, Ireland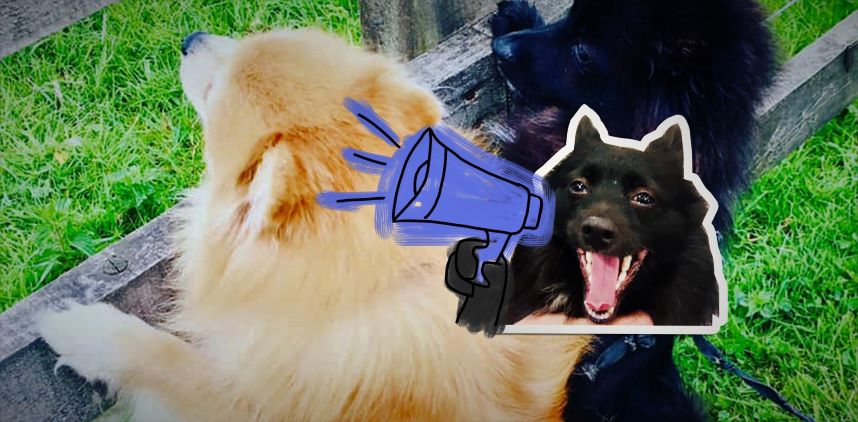 Further Information To Follow
Further information to follow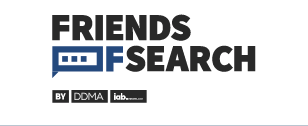 Friends of Search Amsterdam 2020
As an online marketer, your everyday work landscape evolves constantly. You want to stay up to date on the most important international developments and want to be aware of how other companies use their search-engine marketing and search engine optimization. Friends of Search flies international search-experts to Amsterdam so they can share their knowledge with you!
Event Name: Friends of Search 2020
Dates: Tues 4 February 2020
Venue: De Kromhouthal
Venue Address: De Kromhouthal, Gedempt Hamerkanaal 231, 1021 KP, Amsterdam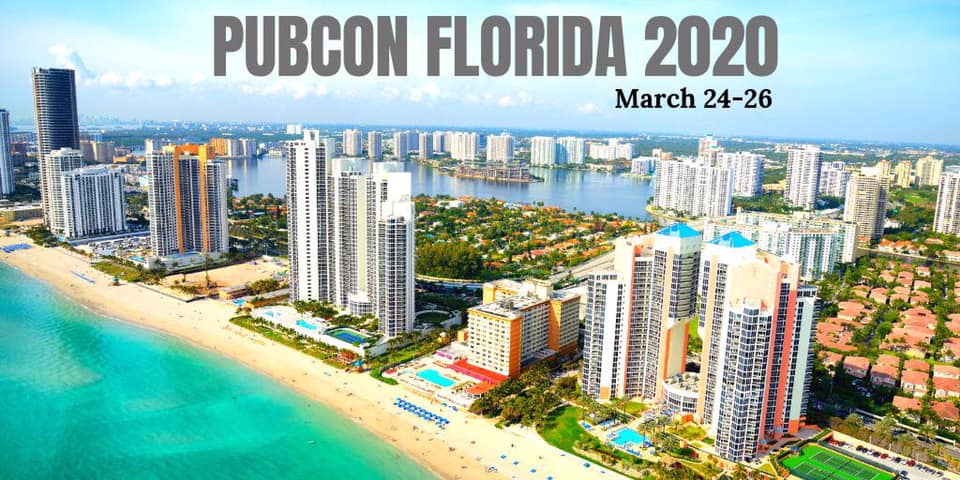 Pubcon Florida 2020
This is our 7th year in Florida, and every year our conference grows. Each year consultants, marketers, and businesses of every size attend our conference to learn the latest strategies, insights, and news about SEO, PPC, social media, content marketing, paid social, local search, Google Analytics, Amazon marketing, video, and more.
Event Name: Pubcon Florida 2020
Dates: Weds 25 March 2020 – Thurs 26 March 2020
Venue: Kovens Convention Center
Venue Address: Kovens Conference Center, Florida International University, Biscayne Bay Campus, 3000 N.E. 151st Street, North Miami, FL 33181-3000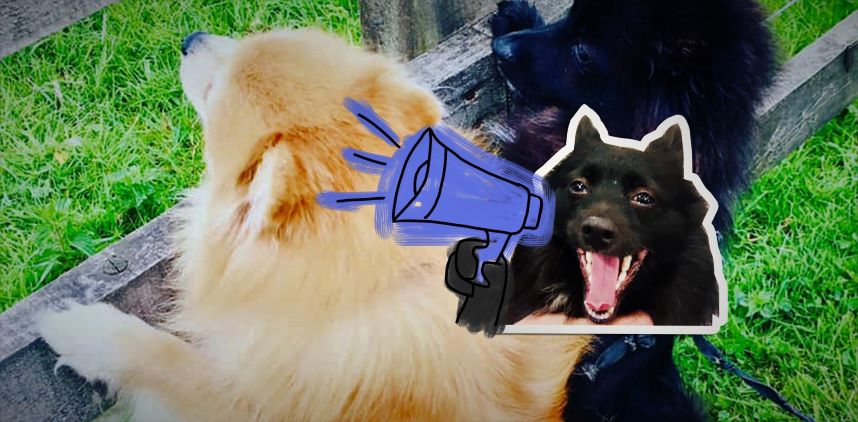 Further Information To Follow
Further information to follow
What Does Dawn Speak About?
---
Dawn Anderson speaks on topics around technical SEO, semantic search, web crawling and indexing, the future of organic search, machine learning in search and natural language processing and understanding, information architecture, ecommerce optimisation, conversational search and strategic web marketing and growth.  Dawn also speaks on panels  and roundtables regularly on a wide range of search related topics.
Where Has Dawn Spoken Before?
---
Dawn has spoken at some of the most well known SEO and digital marketing conferences in the World over the past few years, some of which are listed below: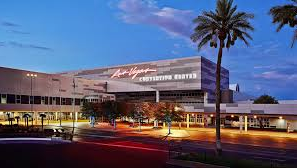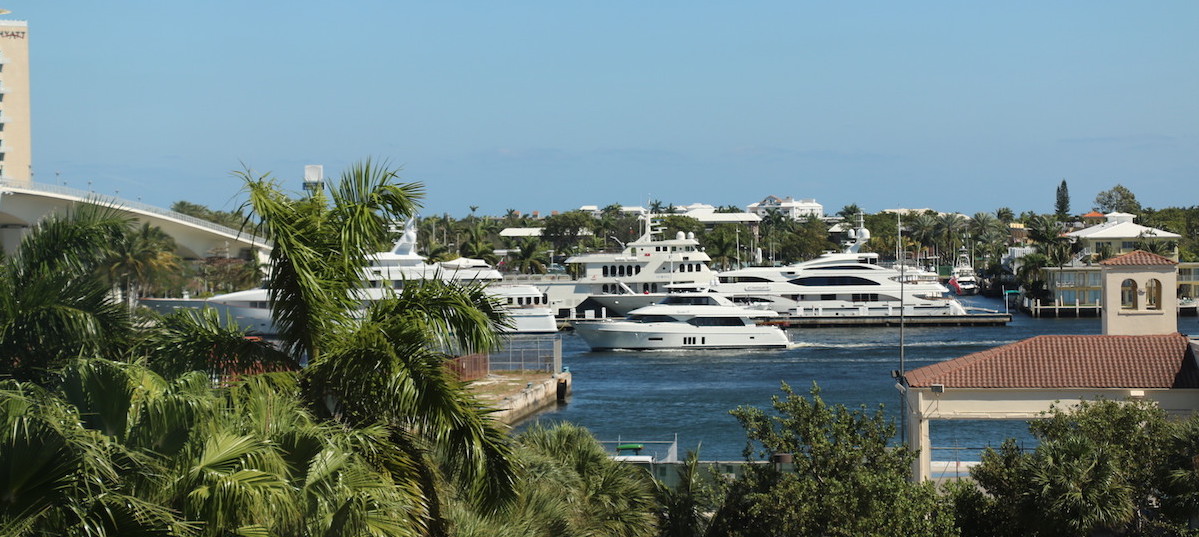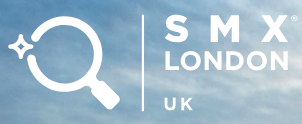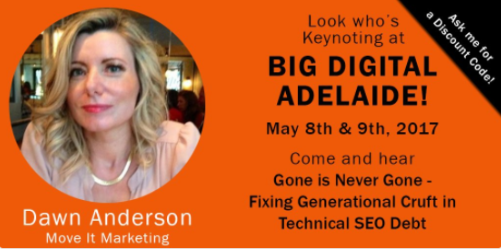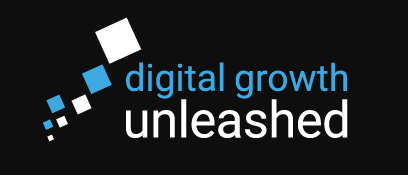 Digital Growth Unleashed London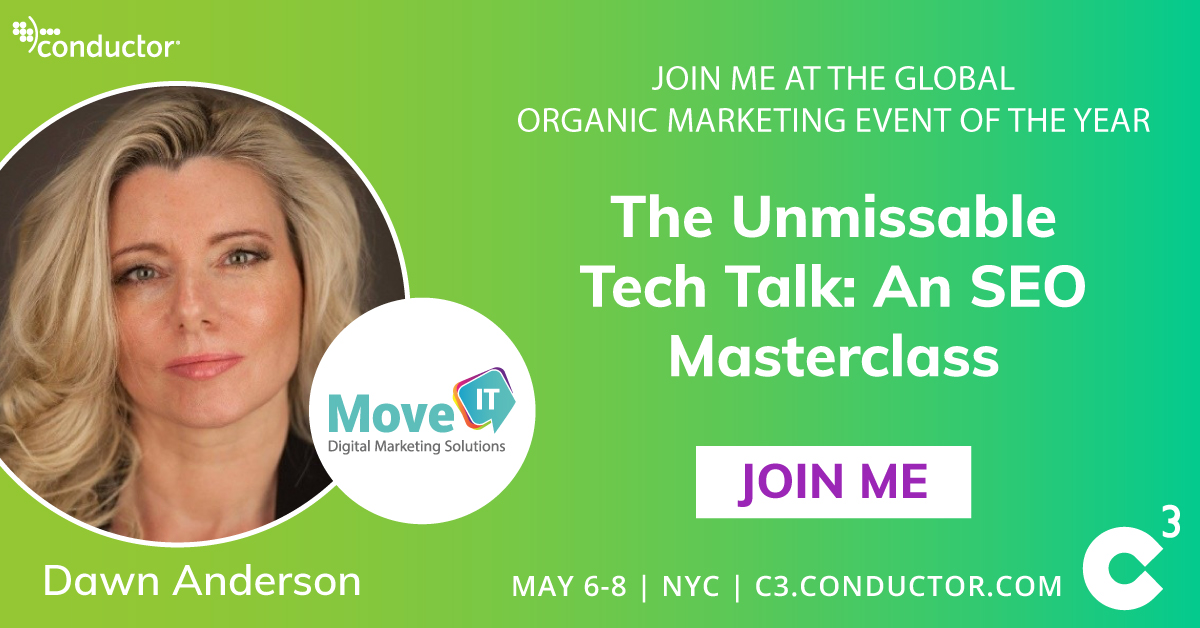 European Search Conference Liverpool
Invite Dawn To Speak At Your Event
---
If you would like to discuss your event please get in touch via the contact form on the website or call 0161 241 5151.  Alternatively you can send us a message through Facebook.