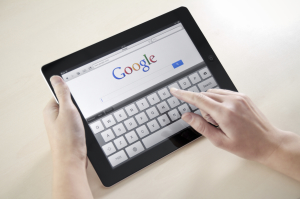 Analysing Google Adwords data is about to get better. The Store Visits metric enables shop owners to verifying how effective your ad campaigns are at attracting customers to your physical store.
The store visit metric will be added to the Estimated Total Conversions tab of Google Adwords. The initial roll-out will take place in the US to stores with "multiple physical store locations."
The system works by tapping into location-based data enabled on a customer's smartphone together with your shop location registered on Google Maps. The metric then determines when a customer visits your physical store within 30 days of clicking on an ad.
In order for the store visit metric to work, shop owners will need to verify their store location on Google Maps (and if you haven't done that already you should anyway), and associate relevant stores with specific ad campaigns.
It should be noted that this metric only measure store visits and not purchases. However, Google is believed to be launch another campaign that identifies in-store transactions using retailer purchase data.
Shopping is going mobile?
Although the majority of consumers still prefer to purchase items from a physical store rather than online, the majority are also using portable devices to research and compare prices.
It has become a common trend for consumers to compare prices of your rivals whilst in the actual store. Not only that but mobile marketing is the fastest growing industry ever and the importance of advertising on handsets should not be overlooked.
The new store visit metrics will allow marketers to determine which ads were successful and which need improving or ditching. The results you can expect to draw from the new Google metric will give you a better understanding of your customers' behaviours.
The store visits metric will also show how offline sales are influenced by local advertising online. Regardless of how convenient eCommerce is, virtual shopping does not substitute the thrill of shopping in physical reality. Marketers have to find a way to combine both.